[ Up ] [ News ] [ 2005 Results ] [ 2004 Results ] [ Results and News Archives ] [ Bits and Pieces ] [ News Links ] [ Links ] [ Photo Gallery ] [ Other Links ] [ Interviews ] [ Head to Head ]
List this page in your favorites to quickly keep up with the latest news and results.
Rankings
It's A Boy
Ashley and fiancé Chuck Adams had a 7lb 12oz baby boy on March 25th. All are doing well. In March of 2008 Ashley lost an ovary to a cist and was in potential danger of not being able to have any kids at all. Children were something Ashley wanted very much. While it's not confirmed there was some talk around that Ashley tried to become pregnant as soon as possible after the March surgery and the possible chance of not being able to have children. We aren't in the habit here on the site of speculating such things but it does make some sense. Whatever the reasons Ashley now has a least on child fulfilling one of her dreams.

Ashley's next goal will be getting back out on the courts. She has said she will return and plans were to be back on the tournament courts sometime in June of this year with plans on playing the US Open. Ashley is following in the footsteps of her friend Lindsay Lee-Waters who has accomplished the feat twice. Lindsay Davenport also return the courts after giving birth to a child and now Kim Clisters will be making her return to the courts after getting married and starting her family. One wonders if the WTA will soon need a baby sitting service on tour.
Lots of Ashley Updates - US Open Series
While we haven't kept up with the website too well since the French Open there is plenty of news about Ashley out there. Depending on your point of view some are even questioning a couple of Ashley's recent decisions. However Ashley seems to be satisfied with her recent decisions and that's what really matters.

Ashley had a chance to go to the Olympics but decided instead to work on her game and her ranking on the summer hard court season leading up to the US Open. That may also include a couple of ITF - USTA challenger tournaments as well.

The other big decision was her decision to appear in Playboy, including getting the cover. She hasn't received much if any real negative publicity from the Playboy layout which is 20 pages of interview and photos. The blogesphere has been the main source of information about the Playboy spread. The mainstream media has pretty much ignored it. Most of the negative comments have been similar to those Anna Kournikova has heard for years, she doesn't win. In Tennis it seems that if you aren't in the top ten or twenty then apparently you aren't any good. In Anna's case she was #8 but since she never won a tournament in singles she wasn't any good. Now Ashley may be getting tagged with the label which may be the worst part of getting a Playboy cover.

Ashley's Tennis hasn't gone too well in her last two tournaments. She lost first round at Wimbledon and first round at The Bank of West tournaments. As usual Ashley got a bad draw at Wimbledon and drew Amelie Mauresmo who hadn't played in a while and hadn't played well in a while but that is a tough draw to get a former Wimbledon Champion in the first round. Ashley played her tough. She lost serve 5 times but did break Amelie twice. Ashley didn't play quite as well on her first serve as you normally see from Ashley although it wasn't bad but against a top player full advantage has to be evoked especially considering Ashley played better than Amelie on second serves. Ashley also didn't take advantage on break chances as she had 7 to Amelie's 8. Total points difference was only 16 but that pretty much defines the 6-4 6-3 loss.

Ashley then faced a Bondarenko girls, Kateryna to be exact. Kateryna is the lower ranked of the two sisters and is exactly the kind of player Ashley needs to be defeating if she is going to improve her ranking and reach her Tennis goals this summer. The first set was close at 7-5 but the second set went quick at 6-2.
Ashley Loses To Serena But Plays Well
Ashley lost to Serena Williams at the 2008 French Open in the 1st round but it wasn't nearly as bad as the 6-2, 6-1 score may indicate. A lot of the newspaper reports are saying it was a beating and the score does make it look that way but Ashley held her own against Serena and probably played the best she ever has against Serena.

Ashley had several break points against Serena but only converted one. Ashley took Serena to deuce on several of her service games and had a multitude of break chances but just couldn't finish any of them off. The same seemed to be true on Ashley's serve. Even though Ashley lost her serve 5 times. Ashley did save 5 break points herself but was only able to convert on 1 of 7 break point opportunities.

The commentators were also very complimentary of Ashley and her game. Mary Jo Fernandez was especially complimentary of Ashley's game pointing out that Ashley plays with a lot of heart and that Serena will actually have to win the match instead of having it given too her. Mary Jo also mentioned that Serena sometimes lets down in the first round but was playing exceptionally well in this first round. Harkleroad fans have to like what they saw in spite of the loss, it was a very competitive match.

Ashley will also be returning to the doubles at the French Open this year with probably her best partner ever, Galina Voskoboeva. Ashley and Galina have played very well together and complimented each others game well. They have both had different partners recently as Galina is susceptible to mental meltdowns from time to time. At one point it was believed that Ashley would never play with Galina again but they are back in action togother.

It's been a little difficult to keep this site up to date the last couple of years but we are working to keep it more current and maybe get back to more content. We missed several reports from the Pacific Life up until the French Open. Some of the highlights follow in the next paragraphs.

Ashley played well at the Pacific Life and the Sony-Erickson Open in March. It was at the "Erickson" that Ashley discovered she had a cist on an ovary and ended up going in for emergency surgery when it ruptured (probably during her third round match.) She lost the match and most pundits attributed it to the medical condition. She lead in all three sets of the match but just couldn't close the deal. Ashley also played well during the Pacific Life Open going to the round of 16 beating some top names along the way.

Ashley was the hero for the USA for Fed Cup play against Germany. Davenport was upset in her first rubber putting all the pressure on Ashley. Ashley came through like a hero winning both her singles matches, putting the USA through to the next tie with Russia. Unfortunately for the US both Ashley and Lindsay were unable to compete against Russia, the Williams sisters were also unavailable and the USA lost to Russia in the semi-final match.
Ashley's Great Start to 2008
Ashley has gotten off to a great start in 2008. All this coming on the heals of a great finish to 2007. Ashley finished 2007 with a 10 match winning streak and three ITF tournament wins at San Francisco, Pittsburg and La Quinta. After the U.S. Open Ashley was 17-3 and played some great tennis to finish the year.

Ashley has all but taken up right where she left off in 2007 early in 2008. Ashley has started off 13-4 so far this year including two fantastic wins for the US against Germany in the Fed Cup. Ashley started 2008 in Auckland with a win over Emilie Loit who is always a tough match. Ashley then lost her next match to Marina Erakovic 7-6(5), 7-5. Ashley then had to go through qualifying at Hobart and won 6 matches before finally succumbing to Zvonareva in the semi-finals. The Australian Open was next and Ashley was unable to defend her points as she got another tough draw in a Grand Slam tournament. Ashley lost to Razzano in a close match 6-3, 7-5 in the first round.

Next was the Fed Cup and Ashley was chosen by coach Zina Garrison to start for the U.S. squad. Then as if there wasn't any pressure to begin with it was heaped on top of Ashley's shoulders when Davenport lost the first match of the 5 match contest. Ashley came through with flying colors defeating Germany's Malek 6-1, 6-3. Next Ashley ensured the win for the USA by defeating Lisicki in a hard fought match 6-4 7-5. Ashley came from 4-1 and 5-2 down in the second set to secure the victory for the USA sending them to the semi-finals against Russia.

Ashley's next stop was a warm-up for Memphis in Midland, Michigan. Midland is one of the long standing great ITF events in the USA. It's a $75,000 tournament that draws a lot of the better players because of the date on the schedule. Ashley came in the #1 seed and mowed through the event until she got to the finals against Fed Cup teamate Laura Granville. Granville avenged her loss to Ashley at last years Family Circle Cup where it appeared Granville was in control until Ashley came storming back to defeat Granville in 3 sets.

Ashley says she is ready for Memphis and will have a couple of weeks off before the start of the tournament. Looking at the players list shows that Ashley can have another great tournament in Memphis. The big names this year are Williams, Davenport and Golovin and their are quite a few other top 100 players playing as well. However a decent draw, where Ashley can avoid playing one of the three aforementioned players early in the draw, should see Ashley find some good results.
US Open Preview and Summer Review
Ashley's summer has been somewhat of a mixed bag this year. Ashley started off at Wimbledon with 1 & 2 loss to Roberta Vinci in a match that most of Ashley's fans thought sure she would win. Ashley isn't all that fond of grass although there are some that think she can play well on it if she wants too. As a junior she was seeded #1 by the club when she was ranked only around #6 as a junior. Prior to Wimbledon Ashley didn't play a warm up tournament but she did play a round robin type of exhibition event and won it.

Ashley played team tennis for the New York Sportimes during the month of July. She faired pretty well for the Sportimes most nights. She only had a couple of hiccups during the WTT season otherwise she usually beat her opponent. Some of her teammates did play as well as Ashley and the Sportimes end the season out of the WTT playoffs.

Ashley then had to qualify for the East West Bank Classic. She won both of her qualifying rounds and then won her first round match against Jamea Jackson 4 & 1 before losing to eventual champion Ivanovic. Ashley played Ana pretty tough too. There were times in the match where she was out playing Ana as well. Ashley just had some segments in the match where she didn't play so well and it wasn't so much that Ana was dictating the points. Ashley just made errors at critical times.

Ashley then had a bit of an Arm problem and took some time off before playing in the Pilot Pen in Connecticut. Ashley blasted through Tatiana Poutchek 6-1, 6-2 to move on to face Elena Dementieva. Ashley is going to beat Elena and it may be the next time. Ashley's game seems to work against Elena although she hasn't quite pulled it all together against Elena. Ashley did lose in two sets but the second set went to a tiebreak where Elena won the tiebreak 8-6.

The US Open draw didn't go Ashley's way once again. There other spots in the draw where Ashley could have gone quite a long way. This time however she draws Venus Williams in the second round. Ashley will face Ioana Raluca Olaru in the first round. Olaru is ranked 84 while Ashley is now back up to 82. It looks like it could be a good match on paper. They will play on court 4 as the second match on a 4PM start for the court. Look for Ashley to be on court between 6 and 7 PM Monday night. Ashley will probably be on court while we are all watching the Althea Gibson dedication.
Wimbledon Preview
I like this draw. Yes we all know Ashley doesn't like grass and she may slip up in the first round.

She plays Roberta Vinci ranked 52 but she's a dirt-baller (clay court specialist.) She won Bogota earlier this year and she has gone to the third round at Wimbledon in 2005. She normally skips Wimbledonas this is only her third appearance. Ok - no excuses Ashley you should beat her.

Next - Ah one of my favorites (besides Ashley, of course) Patty Schynder. However Patty hasn't played well of late. That's the hope Ashley has in this match. Patty's big serves could be a problem. Ashley needs to put Patty on the defensive right away. I think her game against Patty's can work. Patty does like to trade volleys and that can work to Ashley's favor if she looks to dictate the point more quickly than Patty.

I'm going to Assume Bondarenko makes the third round. Should Ashley show - if she can pull the upset, she should have the confidense to beat Alona. (She's the cute one, the cute Bondarenko that is.) She has a nice game but I think Ashley can beat her. Alona has played a little over head of late to get her ranking. She is a very serious player, Ashley won't be able to assume anything. She needs to take it to her - serve and volley against Alona.

That means Ashley could be in the round of 16 against Henin. Well I would like to say she has a chance here but I won't. Maybe Henin can turn up sick like she did against Mauresmo in Australia in 2006. However that would be a heck of an accomplishment to make it to the round of 16. It's not out of the question but it won't be easy.

After that would likely be Serena - no one in her quarter to stop her then Jankovic. Hingis in Jankovic's draw and that could be the 1/4 match there. Ashley has had some luck against Jankovic in the past. The finals would be Sharapova. Maria has a tough draw with Chan in round one and Venus in the round of 16, Golovin or Kuznetsova in the 1/4's (although if Golovin is healthy she'll pound Svetlana.) Ivanovic or Mauresmo in the semi's.

Henin v Maria? Wow? Henin has a clear draw all the way to the 1/4's Maria and the whole bottom half will be a fight. There's 9 or 10 different players that could actually come out of the bottom half if they play well. The top half has 4 that could, 5 at best.

Ashley Plays Venus Tough
Ashley didn't beat Venus but she did give her a great match and it was even closer than the final score indicated. Venus won the match 6-1, 7-6(8) in an hour and forty five minutes. The stats were pretty close, indicating how good the match was overall. The first set was a lot closer than the score would indicate and when you look at total points it was 37-27, not that much of a difference compared to the set score.

The second set was when it got exciting. At 5-1 Ashley was serving and it was looking like a 1 and 1 loss. Venus ended up with a set point before Ashley forced it to deuce. Venus came right back with an advantage and a second match point. Ashley saved the second match point and finally won the game to make it 5-2. Venus then game out and served for the match but couldn't hold. Ashley held to get the match to 5-4 Venus in the second set. Venus came out again serving for the match and ended up with a couple of more match points that Ashley once again saved and ended up breaking Venus for the second time in a row. Ashley held serve for 6-5 followed by Venus holding to force the tiebreak. Ashley ultimately took 5 games in a row off of Venus and while Venus made a couple of nervous errors, Ashley made some great shots as well and on critical points. Ashley jumped out to a quick 2-0 lead then gave up three straight points. Now down a mini break Ashley went to work making a couple of good shots but also benefiting from a couple of double faults from Venus. At 6-3 Venus held both of her serves and then got Ashley's first one. Ashley held the second on for a 7-6 lead. Venus tied it but Ashley got another mini break for another lead at 8-7. Ashley served and just missed a clean winner down the ad sideline that would have won the set. On the next point Ashley made a good net approach but didn't quite finish the point on two volleys that if she had to do them over again, she probably wouldn't have played them quite so safe. Venus gets the mini break and the lead at 9-8. Venus missed her first serve and put a second serve right in Ashley's hitting zone and she went for it. Clearly it would have been a clean winner down the deuce sideline but she just clipped the top of the net, giving Venus the win.

Ashley hasn't had one of her best springs but the match she played today against Venus proved she belongs and went a long way toward the argument by some that she is even better than her ranking would indicate. Even Mary Jo Fernandez on the ESPN2 broadcast mentioned that she had the talent to be a better player. Playing Venus as well as she did today should give her some confidence going forward. If you can play well against Venus, then you can play well against anybody. Some of Ashley's fans may have given up on her but the way she played today proves she still has a lot of tennis left and that she can be a force in women's tennis.
The French Open
It's time for the French Open and a lot of Harkleroad fans look forward to this tournament because it seems to be Ashley's best Grand Slam event. Every since defeating Hantuchova in 2003 in the second round there seem to be big expectations for Ashley at the French Open. Clay surfaces have also seemed to be better services for Ashley even though she says she likes hard courts better. Ashley's best weapon seems to be her speed around the court, she gets to a lot more balls than most of the other girls and clay plays right into her foot speed.

Ashley has a tough draw however as she would likely face Venus Williams in the second round. First however Ashley has to get by Aleksandra Wozniak. The pair played three matches late in 2006 with Aleksandra winning the first two before Ashley got her revenge in Troy, Alabama.

Wozniak won their first match in Pittsburg at an ITF event, in three hard fought sets. Later at Quebec City Wozniak seemed to have her way with Ashley winning 1 & 4. Then came Troy and after Ashley lost the first set in a tiebreak coming from way behind in the set, it was all Ashley in the second and third sets. Ashley won the match winning the later two sets at 2 & 4.

All three of their previous meetings were on hard courts and Ashley should have the advantage on the red clay of Roland Garros. Ashley has had a bit of a tough spring leading up to the French Open but after a few weeks off from play, should actually be refreshed and ready to go. Ashley should win her first round match as long as she isn't thinking too far ahead to a potential second round match with Venus. No one will expect Ashley to win against Venus but it is on clay, the great equalizer, and Ashley is known best for winning when she isn't supposed too and unfortunately losing win she should win.

Ashley has her mind set on the fact that a lot of players come along late and a good showing at the French Open would help her to continue to build confidence for her long term goals.
Ashley Saved Four Match Points In Win
Ashley got of to a quick start against fellow American Laura Granville going up 2-1 in the first three games, when the wheels seemed to fall off. Ashley just couldn't get it going for a time and ended up losing the set 6-2. Ashley had a conference with her coach between sets (new rule) but still didn't seem to be in a good groove, even after coming out and getting up 2-1 again.

Once again Granville charged out to a 5-2 lead. Ashley then held serve it what appeared to be a consolation game not to lose 2 and 2. The crowd seemed to be on Ashley's side and cheered her on. Granville then serving at 5-3 found out that Ashley wasn't going to just give up. One of Ashley's best qualities when she decides to us it, is to not quit no matter what the score. Ashley faced three match points on Granville's serve and held them all three off, returning ground stroke after ground stroke. Ashley ending up breaking Granville to bring the match to 6-2, 5-4 from 6-2, 5-2 match point down.

Ashley then served at 4-5 in the second and allowed Granville another match point, and once again held it off. Ashley then came out held serve rather easily and then broke Granville to take the lead in the second set at 6-5. Ashley came out and after seeing deuce, held Granville off and won the set 7-5.

The third set was all Harkleroad. Ashley charged ahead in the set and the match to finish off a disheartened Granville 6-2 in the third set. The crowd clearly pulling for Ashley cheered wildly after seeing a great match between to great Americans.
Recent News and the Family Circle
For those of you who follow Ashley on this site.............yes it has been awhile since and update has been posted. Circumstance surrounding the webmaster are the reason. However it appears we will be back up and running helping you keep up with the latest on Ashley.

Ashley opens her Family Circle Cup match Monday April 9th. Ashley will face Laura Granville in the first round on Club Court in the second match of the day. It's a match Ashley can win. This is the time of year when Ashley seems to start to pick up the pace. Ashley has played well in Charleston as many of you may remember. The Family Circle Cup was Ashley's breakout tournament back in 2003. Ashley has hovered in and around the top 100 ever since. Many of you, her fans have been waiting for that steady top 50 play. Most believe it's still within Ashley's ability and once again this year she has shown signs of brilliance. We all hope she can get back on track this week.

In the meantime since the Australian Open Ashley has had a mixed bag of success. She had some tough matches she didn't win and had a couple of matches that she did win that again make her fans hopeful of good things yet to come. Ashley didn't fair too well in Memphis but won a round in Miami before losing a tough match in the second round.

Clay has been good to Ashley in the past and when you look at the draw, it is not inconceivable that Ashley could make the semi-finals to face one of the Williams sisters. Ashley has one of the best chances in the draw she has ever had at any tournament with the kind of clout that a tournament like the Family Circle Cup presents. You might not expect her to win but there isn't anyone in her quarter of the draw she can't beat. Some might say Jankovic will beat, well they are right, she might but Ashley has defeated Jankovic before and with a little animosity involved as well. It would surprise us here at the website to see Ashley beat Jankovic and Peer, back to back. Ashley has that kind of ability. She has done it here before and she just may be ready to go on a roll.
Ashley Loses A Heartbreaker to Hantuchova
Ashley lost a heartbreaking match to Daniela Hantuchova in the third round of the Australian Open. It was a match that Ashley should have won in two sets, or at least had a chance to win in two sets. The wheels just seemed to fall off of her game for a stretch in the second set as she lost 19 of 20 points, losing two service games while serving for the match at love. Ashley then broke in the third set to go up 3-1 serving for 4-1 when things seemed to go bad again although not nearly as bad as what happened in the second set.

Daniela and Ashley both seemed to get nervous at critical times in the match and they is the big issue in tennis, closing out a match. Ashley and Daniela have both been known to lose matches they otherwise should have won most likely due to nerves. In circumstances such as described, it's obvious that the potential losing player steps up and has nothing to lose, that combined with the nerves of the player in the lead can result in a match lost that should have been won. You have to give the player that should have lost too however. They obviously stepped their game up to keep from losing. In the case of this match it's hard to say Daniela won the match. They case this time seems to favor Ashley lost the match.

The first set was a tough hard fought set with both players leading at some point in the set and both players had set points with the serve and didn't complete the deal. Ashley got up a break early in the set, then gave it back only to break back and gain the lead. Then the set swung Daniela's way as she breaks to get back on serve and then to have Ashley break back herself to get back on serve at 4-5. Both players did hold the rest of the way to get into a tiebreak. Ashley got out to the early lead in the tiebreak going up 5-2 and had serves to close out the set. Daniela then came back to take a 6-5 lead herself before Ashley finally won the last 3 points to win the set. The whole match seemed to be the two players trading "streaks" of games and points.

The second set started out looking as if Ashley was going to run away with the set to win the match. Ashley rushed out to a 4-0 lead winning seventy-five percent of the points. Daniela then broke back and held serve to make it 4-2. Ashley then held for 5-2 and that's when it all seemed to come apart. Ashley did have 30-30 in game eight before losing to the game to 5-3 but serving for the match in game nine it all went sour. Ashley lost her serve at love to let the match get to 5-4. Daniela held for five all with Ashley winning only one point in that game. Serving to go 6-5 Ashley lost at love again giving Daniela the 6-5 lead which allowed Daniela to finally win the set 7-5.

The third set once again started out with Ashley grabbing two early leads. The second game was a hard fought game going to deuce six times before Ashley got the advantage then won the game, breaking Daniela to go up 2-0. Daniela broke right back however to keep it on serve. Ashley then broke Daniela again to go up 3-1. Daniela returned the favor again making it 3-2. Game six went to deuce four times before Daniela held to tie the set up at 3. Ashley then could only score two points in each of the next three games as Daniela pulled away for the win.

Daniela won stretches of five games twice in the match to win both the second and third sets. Ashley actually played well with a fair amount of winners and not an over abundance of unforced errors but she couldn't pull it out this time. Harkleroad fans have to be encouraged that Ashley made the third round of a grand slam for the second time in her career. Even though she lost to Hantuchova, Ashley proved she can play at a high level defeating a seeded player with chances at defeating two seeded players in successive rounds. Ashley showed she can be a top 30 player at least, Harkleroad fans everywhere are hoping she reaches those heights.

The following is from Sports Illustrated.

Hard road

Ashley Harkleroad was a set ahead and 4-0 in the second when Daniela Hantuchova threw caution to the wind.

"She just started slapping it," said Harkleroad, after eventually losing to the 15th-seeded Slovakian 7-6 (6), 5-7, 3-6. "She was just reeling off shots one after the other, like she didn't really care, and they were all going in."

American Harkleroad, unseeded here but who had her second top 20 finish in 2006, said she got spooked up when Hantuchova began landing winners from all over the court -- and blew a chance for her first fourth-round appearance in a Grand Slam.

"I got a little bit tight, and that's it," she said. "I should have won that match, period."

Hantuchova, who beat defending champion Serena Williams in the third round of the Australian Open last year, said she recovered by focusing on each point.

"I was just waiting for my game to come, and it did," she said.

Hantuchova next faces No. 4 Kim Clijsters.
42 Minute 1st Round Win
Ashley got off to a great start at the 2007 Australian Open defeating Meng Yuan in a swift 42 minutes. Ashley won the match 6-3, 6-0 breaking Yuan five times in seven chances. Yuan had one break in three chances. Ashley had a 72% first serve percentage winning 69% of her first serves. Ashley dominated the statistics all the way around. The only bad stat was 27 unforced errors.

One of the best stats from Ashley's point of view is 28 winners. Ashley's game of recent years has been one of keeping the ball in play and letting the opponent make all the errors, with a low number of winners. In a match with only 15 games played 28 winners is a ton. Ashley also had a high number of net approaches with 26 winning 24 times. That is very aggressive play and is something many of her fans have waited to see from Ashley, believing that is the style of play that would help her win more matches than she does already.

Chuck Adams has been coaching Ashley of late and tends to like the more aggressive style of play and it's beginning to show in Ashley's game. If Ashley continues to play the way she did in the first match she should have a good Australian Open. You could see her in the fourth round against Clisters.
2007
What's ahead for Ashley in 2007. Right now she will be on tour but her early schedule is not yet clarified. She finished up 2006 with a slight injury and a new coach. Chuck Adams was coaching Ashley at the end of the year and at this time harkleroad.net believes that still to be the case.

Ashley has generally played the ASB Classic at the beginning of the year with a lot of success. Ashley is currently not in the main draw. Her ranking has her just outside of the main draw. She may have to qualify at the tournament again this year.

At harkleroad.net we are going to try to do a better job this year keeping you current on all of Ashley's play around the world.
Ashland and Troy
Ashley is scheduled to play Ashland Kentucky this week. The tournament is sponsored by Dr. Ditty. Dr. Ditty's daughter Julie Ditty is a professional on the tour and has played doubles with Ashley in the past. Ashley is playing Ashland to make up some points to gain ground in the rankings again, in preparation for the first Grand Slam of next year, the Australian Open.

Ashley lost points when she didn't defend any of the challenger tournaments this past summer. She played the Grand Slams and some Tier III's and IV's and got some unlucky draws early in the tournaments. It's hard to progress in a tournament and improve skills at a higher level when you have to open or play second round against the top 10 in the world.

After Ashland Ashley is scheduled to play in Troy Alabama. Hopefully there will be some new photos from Troy to post on the site.

Keep your support for Ashley strong.............and good luck Ashley.
Ashley Draws another Seeded Player Early
Tatiana Golovin will be Ashley's first opponent at the US Open. Golovin is seeded 27th and is a star on the rise. Many expected this year to be a break out year for Tatiana but it hasn't quite turned out that way due to injuries and inconsistent play. Tatiana is a big hitter, with a good serve and plenty of ability to move around the court. She has been consistently inside the top 30 for the better part of the last two years.

Ashley will need to try to keep her off balance and moving right from the start. That is generally the strategy for any opponent toward another opponent, but when you are playing the big hitters it is especially true. Ashley's improved serve will help but it won't be enough all by itself. Ashley will need to use her wits and out think Tatiana on the court to beat her. She'll need to try to work a shot or two ahead and force Tatiana into making the errors.

Should Ashley get by Tatiana the second round looks like it's Ashley's to lose. The third round will be quite interesting as well only a lot tougher than the first as Nadia Petrova is likely to be Ashley's opponent should she make the third round.
Ashley Breaks Through Against Craybas
With the sun finally breaking through the overcast sky, Ashley scored a 6-2, 6-3 win over compatriot Jill Crabas in a first-round Acura Classic match on the Grandstand. It was Ashley's first victory over Craybas in four career head-to-head meetings.

With some heavy hitting from the baseline, Ashley converted on five of ten break point opportunities during the match which lasted one-hour and nine minutes.

In the first set, Ashley erased a 2-1 deficit and dropped only six points in winning five consecutive games to wrap up the first set. Ashley continued to pressure Craybas from the baseline in the second set. At 3-3, Craybas double faulted twice and proceeded to lose an 18-point game to drop serve.

Despite throwing in a double fault, Ashley held serve to increase her lead to 5-3. Serving to stay in the match, Craybas took a 15-0 lead, but lost the next four points to lose the match.

Ashley advances to a second round match against fourth-seeded Elena Dementieva. Harkleroad is making her third career Acura Classic appearance. Craybas is ranked 48 in the world.

Ashley has a game that can give Elena Dementieva fits. Don't be surprised to see Ashley in the third round.
Craybas Up First at La Costa Resort/Acura Classic
Ashley will face Jill Craybas in her first round match at the Acura classic on Tuesday. Ashley has lost her only two meetings against Jill. She lost in their first ever meeting in 2004 at the NASDAQ when she was forced to retire with a blister on her hand. She then lost to Craybas on the fabled grass of Wimbledon in 2005 after three quality wins in qualifying to get into the main draw. Craybas one the first round match in three sets, all of them going 6-4.

Ashley doesn't lose to many players twice in a row, and especially not a player like Craybas. Give Craybas her due, she is a tough customer but she is also a player Ashley can defeat. It was a close match a little over a year ago and you can bet Ashley remembers it. Probably one of Ashley's best motivating factors is the revenge factor.

Should Ashley get by Craybas, and she probably will, Elena Dementieva will be waiting in the second round. This is a match up that favors Ashley believe it or not. If Dementieva has her typical serving issues Ashley will chew her up. If Elena is serving well this is still a match up that may surprise a lot of people in the know, as Ashley's game is the perfect antagonist against Elena's game.

Elena hits the ball hard and Ashley loves pace, however Elena doesn't hit it exceptionally hard. Ashley has more foot speed and she will out think Elena on the court. Ashley's serve speed is up and if Elena gives Ashley any openings on her serve that's all Ashley will need to move on to the third round.
Ashley Loses 2 and 2
Ashley lost to Maria only winning four games, two in each set. However Ashley looked pretty good during much of the match. You could definitely see that Ashley has made some progress in her game despite the fact that she let Maria dictate the points. There were times when Ashley could have dictated the point but didn't take advantage, and there were also times when she did dictate the point but then hit an error. Overall however, Ashley made a much better showing against Maria than the last time they played as well as making a good showing at Wimbledon.

After her lose in the French Open Ashley told Luke Jensen that she had to win more than one round at the majors. That is true but drawing Maria second made it a tough task at Wimbledon at this point for Ashley. Mary Jo Fernandez commented on ESPN2 that she thought Ashley was just trying to get balls back. That may have been the strategy at this point in her come back. By the US Open hopefully the "comeback" portion will be over and Ashley will be playing in later rounds.

Ashley's coach has helped her out quite a lot. Ashley's serve is now over 100 MPH and her second serve is up out of the 70's as well. That can only help Ashley. Now Ashley has to continue to improve her game overall and the match against Maria showed some good signs of improvement. Ashley just has to continue to move forward on her overall progress.

In doubles Ashley is playing quite well. Ashley and her partner Jarmila Gajdosova defeated the number 3 seeds in the first round and went all the way to the third round before losing to Fedak/Perebynis in the third round. Ashley has played very well in doubles this year, so much so she may need to make an effort to find a permanent partner, already inside the top 20 or even the top ten and see about making a run at some of these titles. Ashley has the touch around the net. A very smart doubles player, with the right partner might make some big loud noises on the tour.
Sharapova is Next For Ashley
Ashley won her first round match on Wednesday, defeating Kostanic in two sets 6-3, 6-2 moving on to the second round to face former Wimbledon Champion Maria Sharapova. Ashley has had some tough matches against Maria and you can bet Maria remembers some of them too. They went to three tough sets a couple of years back in Pittsburg. Maria has been a bit better on grass, while Ashley has played her very tough on just about any other surface.

Like any of the big hitters the key to beating Maria is keeping her on the run. Ashley's game if she plays it can keep Maria on the run. The key for Ashley against Maria is to keep from getting into trading shots from the baseline. The other advantage Ashley has is her foot speed. If Ashley can get Maria moving side to side a little bit, forcing Maria to hit the ball a little short where Ashley can run some balls down and hit some easy winners.

Ashley can step up and defeat Maria, especially with the confidence of a first round win where you could argue she dominated the opponents serve. Ashley is serving better than ever in her career, she likes pace so Maria won't bother her in that manner. Ashley has to try to take control of the point early. If she does that she can beat Maria. If Ashley beats Maria, then look out because that section of the draw is wide open. It's full of players that Ashley can beat. Then if you have some one like Ashley show up in the quarters with a bunch of confidence, we all know what can happen then. Really for Ashley this is the match to win. If she can win it, she can make a nice run at Wimbledon.
WIMBLEDON
The draw is out and Ashley drew Maria as a potential second round match up, on Maria's best surface. Ashley also drew French Open first round opponent Jelena Kostanic. Ashley has played Kostanic twice in the past winning both times in three sets losing the middle set. Ashley won, of course, at the French then Ashley also defeated Kostanic in Auckland qualifying earlier this year.

Ash should get by Jelena on fabled grass of Wimbledon. Ashley should be confident but will go in prepared, knowing that Jelena is a formidable opponent and remembering the last two matches weren't all that easy to win. Ashley would then most likely face Maria Sharapova, a past Wimbledon Champion who has defeated Ashley at Wimbledon back in 2003. Ashley played Maria in the second round of the Australia Open losing in two sets but Ashley did have set points against Maria in the second set. Ashley won't be an easy opponent for Maria.

Should Ashley get by Maria, the draw opens up wide for Ashley. She could actually get to the semi-finals if she is able to get by Maria. There is no one left in Ashley's section of the draw that Ashley doesn't have the ability to defeat. It wouldn't be easy but it could be done. There are some girls in the draw she could face that she has had a tough time with in the past. Czink, Daniilidou and Dechy all come to mind but Ashley has the skill to get by them, especially if she was riding the confidence of a win over Maria. Ashley also has a habit of getting in a grove and running off several matches in a row. She has done it several times in the past. Should she get by Maria, you can almost bet on a winning streak, possibly all the way to the semi's. It would be a great run for Ashley.
Some Success But More Hoped
Ashley did have some success at the French open winning a round but then losing in the second round was a bit of a disappointment for her. She stated in an interview with Luke Jensen that she was happy with the progress she has made with her new coach but that she obviously had to win more than one round. Ashley has improved her serve along with other aspects of her game. She has also mentioned in some interviews that things have always seemed to come a little late for her.

This website has suggested that it's not too late for Ashley and has compared her to late arriving Lindsay Davenport as evidence that it is in fact not too late. However Ashley's physicals gifts actually came along pretty early, it's her mental ability that showed signs of brilliance that haven't yet reached full maturity. Ashley defeated Kuznetzova at the French Open only four years ago. Kuznetzova just played a Grand Slam final in Paris. Ashley can play with these girls, continued improvement through this year mentally can put her back up inside the top 40 with a good shot at the top 20 or better.

Ashley is now playing an exhibition in Liverpool and is scheduled for Eastbourne next week and Wimbledon to close out her European tour.
Ashley Shows Her Metal
Ashley had a great win against Jelena Kostanic in three tough sets. Ashley broke Kostanic's serve to win both the 1st and third set which won the match, which is a great credit to what seems to be her improved mental toughness. After losing a second set it's easy to give up the third, and especially a tight third set. Ashley, stepped up and completed the task. The last time Ashley played Kostanic she lost that also had to weigh on her mind if only a little bit. Ashley does have a reputation however of beating an opponent that beat her the first time out. Srebotnik won't be an easy task but if Ashley's is confident she can play with Srebotnik and beat, maybe even badly. If Ashley loses however, the French Open has been a success because of just one win.
French Open Preview
Ashley has a tough draw but not one that would make you think that she can't go a few rounds. If won't be easy for Ashley but if Ashley plays well she could get to at least round 3 and maybe even the round of 16 against Maria. Ashley will face Kostanic in the first round and then potential seeded Srebotnik in the second round. Ashley can beat both girls if she is playing well. She lost to Kostanic in 2004 just as she was headed into her extended time off to heal and recuperate. After Srebotnik, whom Ashley has never played, would likely be Dinara Safina. Safina would be a tough match but on clay, that may assist Ashley. That would then lead to a potential match up with an injured Sharapova.
Ashley is Now Playing in Turkey
Ashley is in Turkey this week playing her last warm up before the French Open starts next week. Ashley had a tough draw but a draw that she could use to build her confidence and launch herself into the French Open rip roaring and ready to go.

Ashley's first opponent is Cibulkova and is only ranked 339. The second round could be last weeks 2nd round opponent in Melinda Czink. Ashley rarely loses two matches in a row to the same player especially this close to the previous match. Czink does have to get by Santangelo however. A potential quarter final opponent in Peer would be a good match but still one Ashley can win. Sprem would likely be the semi-final opponent in spite of her current ranking and second seeded Groenefeld. Ashley took a set at love off of Karolina only a couple of weeks ago in Prague.

Check out the new Harkleroad Gear on the home page if you haven't already.

In the mean time Ashley and doubles partner Bethanie Mattek have been on a roll making two straight finals. They didn't win either tournament but they made some noise coming through the draws beating some pretty good teams. Bethanie is up to 54 in the rankings while Ashley is now up to 70 matching her highest ranking ever.
Ashley Ends A Five Match Losing Steak
Ashley convincingly ends her five match losing streak dating back to a double bagel lose to Davenport at the Pacific Life Open. The loss to Davenport really hurt her confidence for the following couple of months after losing to Davenport as she lost three matches, all to players she should have defeated.

Ashley turned all that around, soundly defeating Camilla Pin in Morocco 6-4, 6-1 in her opening round match in Morocco at the Grand Prix SAR tournament in Rabat. Ashley even garnered portions of the headlines on virtually every report coming out of the tournament.

Ashley faces Melinda Czink in the next round. Ashley last faced Czink in May of 2002 losing in the final round of the Cloister Cup in Brunswick Georgia in 3 sets. Czink was a tough opponent that day but Ashley should prevail this time around.
Ashley Playing Europe Leading to French
Ashley is playing a full schedule leading up to the French Open. She started this week in Prague where she drew Karolina Sprem in the first round. She played Karolina tough winning the first set at love before losing the match 4 and 3 in the second and third set. Ashley then went on to make the doubles finals with Bethanie Mattek

Ashley is playing the week of May 14th to May 21st in Morocco. Ashley has a pretty good draw, facing Camilla Pin in the first round. Ashley lost to Pin two out of three matches last year on the USTA circuit. Both players used the USTA circuit last year to improve their rankings and this year they both are playing mostly WTA events. She has some potentially tough matches to the final but this is a draw Ashley could run through if she is on her game.

Originally, Ashley had been scheduled for the event in Turkey but instead opted for Morocco where she does have a better looking draw for her at this stage of the season.
Dothan Ended Up Kind of Crazy
Ashley lost her first round match to Anda Perianu on Wednesday night of the $75K tournament in Dothan Alabama the week of the April 16th to 23rd.

Ashley's confidence has been down since losing to Davenport in Indian Wells last month. Losing to Davenport wasn't a big deal. Losing with a double bagel was a big deal. It really hurt Ashley's confidence and it has showed in her last three matches since. Her lose to Jackson in Miami probably didn't help either. Then in Charleston she tried out a new set of strings in her first round match against Castano which was a disaster by Ashley's standards. Finally she got off to one of her slow starts in Dothan and then while she played well in the second set against Perianu she couldn't quite close the deal.

There is some better news in all of this however. She played well in doubles with Galina Voskoboeva in both Charleston and Dothan. There is a sad story here however as well. They came into Dothan on a good note winning two rounds in Charleston including defeating the #5 seeds. They then squeaked by a pretty good doubles team in Schlukebir/Rolle 7-6, 7-6 proving they can pull out the tough tight matches.

After Voskoboeva lost her single match to Skavronskaia, Galina started going down hill mentally. Ashley and Galina came out and blasted Drake/Dekmeijere off the court 6-1, 6-1. Galina however was still upset about losing her singles match. She allegedly told Ashley she couldn't get her flight changed, then she turned around and told the tournament referee a different story, that her wrist was bothering her and she couldn't play. The tournament referee tried to talk her into staying but she refused. Looking at the draw they would have probably made the final and would then probably pushed the team of Lepchenko/Gallovits to the limit if not outright winning it. That would have been real popular in Dothan. As it was, the largest crowd of the week, other than the finals, was Ashley's Wednesday night feature match.

More good news is that Ashley has increased her serve speed to over 100 miles an hour. Her new coach has really helped her with her serve. However she struggled with it some in that Wednesday feature match which may have been the ultimate undoing in that match. As she continues to improve her serve, and with several tournaments coming up on the red clay of western Europe, look for Ashley to have another good summer.
Miss, Miss, Miss
Ashley yelled out "that's all I do is miss, miss, miss" in frustration after another unforced error. Ashley just seemed to be a little bit long on her shots during her entire match against Catalina Castano on center court Monday during the Family Circle Cup.

Ashley also struggled with four or five drop shots that each hit the top of the net, just missing what would have been brilliant shots had they been executed to completion. Ashley did make some shots and despite losing 2 and 0 she was in every game. Ashley had plenty of break chances, especially in the first set but just kept making critical errors, usually hitting the ball just wide or just long. Now don't quote this but it sure seemed like every game went to deuce no matter who was serving in that first set. Castano made her share of errors but Ashley made a lot more and at more critical moments.

The second set started out with another break chance Ashley was unable to convert and when the set went to 3-0 Castano, Ashley was just going through the motions for the last three games. The frustration of playing so poorly on this day finally added up to just getting off the court.
Ashley Has A Busy 3 Weeks Coming Up
Ashley has a busy three weeks coming up, especially if she has any success. Ashley will be playing Amelia Island at the Bausch and Lomb Championships this coming week. As of this writing it's unclear whether Ashley will have to qualify or if she's in the main draw.

Ashley will then play Charleston. Ashley has asked for a wildcard but may have to play through qualifying. One of the leading posters on Ashley's yahoo page always thinks this is a good idea considering where Ashley's at right now in the rankings. Harkelroad.net sometimes agrees with the theory. Match play can increase your skills. The pitfalls however can be a little discouraging. If Ashley loses in qualifying in can affect her mental attitude for the next tournament or make her press when she doesn't need too. Also, it can make a player a little tired later a tournament to have to go through qualifying and in turn for the next week depending on how deep a player goes in a tournament.

That then leads us to the third of the next three weeks. Ashley will be playing the ITF tournament in Dothan. Dothan is known as the best ITF tournament in the United States in many circles and it is a $75,000 tournament. Ashley will likely end up the number one seed. Ashley is a fan favorite in Dothan and played her first professional final in Dothan. If Ashley is playing well the fans of Dothan may finally get what they have wanted to see since Ashley turned 16 during that first tournament in Dothan..........and that would be to see Ashley Win in Dothan.
Ashley Crashes Out Against Jackson
Ashley blew a lead in all three sets to lose a match against Jamea Jackson that she should have won 4 and 4. This site intends to focus on the positive aspects at all times. This site was set up for Ashley and her fans to help her fans follow along and enjoy Ashley's tennis. Sometimes however you have to tell like it is. The facts this time are Ashley let a match that she should have won in two sets get away from her in three sets and it had to be nerves or a mental lapse that let her down.

It all started as Ashley was cruising through the first set and was serving for the set when she was broken at love. Ashley then went on to lose the set 7-5 as she was also broken while serving to send the set to a tiebreaker. Ashley was leading 5-3 in the first set before losing 5 games in a row.

Ashley regrouped in the second set and broke Jamea in the first three games to take another lead. Ashley was serving at 5-4 to take the set and was again broken for a 5 all tie. This time however Ashley faired a little better and was able to force the set into a tiebreaker which she won 7-3. The inability to close out sets however is a little worrisome going into the third set.

Once again Ashley got out to a lead in the third set and while she was serving at 5-5 she was broken again to fall behind in the set. Jackson then served the match out only allowing Ashley one point in the final game.

Ashley had to be disappointed in this match and this surely didn't help what many one say is the weakness in Ashley's game that keeps her from breaking into the top 35 and that's the nerves and/or the mental portion of her game. The stats looked pretty good for Ashley through the first 8 games of the match but in the end the stats only told part of the tail. Ashley had 74 unforced errors and converted on only 6 of 16 break chances. Jackson converted 8 of 16 chances and had only 64 unforced errors. Those were the two stats that told the story. The rest of the match was relatively even.

Ashley has shown some great signs of an excellent mental game, especially playing a higher ranked player and coming from behind. She seems to have problems however when she is playing someone she should defeat. It's hard to say exactly why that happens but clearly it's a mental game. Whether or not Ashley doesn't prepare as well mentally for lesser opponents or not is hard to know but it sure seems like that may be the problem.

If Ashley is going to make her goals in Tennis, she needs to work on the mental portion of the game. The clay season is coming up and it has proven to be Ashley's best surface. If Ashley can use the spring season to work on the mental aspects of her game and to just go out there and whip the lesser players, she will make some great strides in the mental portion of the game.

Lindsay Davenport's comments after her match with Ashley at the Pacific Life tournament really says a lot about the topic of Ashley's mental game as well. Lindsay talked about how close the first few games were and how well Ashley seemed to be playing in those games. However Lindsay won the key points and got a lead. Lindsay then went on to say that she felt as if Ashley broke down mentally after getting what seemed to be too far behind. The problem with being behind in tennis is that, there really is no such thing as being two far behind in tennis since there isn't a clock to end the match. It has happened in Tennis that player has been behind 6-0, 5-0 and 0-40 and come back and won the match. In fact I believe it has happened twice in the last thirty years, once on the men's side and once on the women's side. You could say the players who lost those matches lost them mentally because they didn't close the match out, however what does that say about the winners mental game? That's what Ashley needs to concentrate on fixing. Ashley has a ton of career left and may yet still prove to be a late bloomer as far as the top 10 goes but she has to fix the mental game to make it work.
Seeded 5th in Vegas
Ashley is seeded 5th as of this post for the ITF $75,000 Tennis Channel Open which is being contested this week in Las Vegas. Ashley's doubles status is unknown but Carly Gullickson is also at this tournament. Ashley and Carly put on a good showing this past week in Vegas going all the way to the semi-finals before losing 5-7 in the 3rd set.

Memphis Results

Ashley started out with a great win against 51st ranked Stosur then she lost to unranked wildcard Caroline Wozniacki. Ashley has made a habit of beating higher ranked player only to go on to lose to a player she probably should defeat. While she's working on improving her play under those circumstances it once again reared it's ugly head in Memphis.

Ashley played doubles with Carly Gullickson in Memphis and they had a great run making it to the semi-finals before losing in a close three set match 5-7 in the third. Once again Woznacki was on the other side of the net. Wozniacki is just 15 years old and with that reminds Ashley's fans of when she was 15 and making early noises in the tennis world.
Ashley Upsets Stosur
Ashley upset Samantha Stosur 6-4, 6-3 but that wouldn't appear to be that was much of an upset in reality. Details and stats aren't available so that leaves things sketchy for reporting. Ashley is also playing double with Carly Gullickson and as a team they are seeded fourth, largely on Ashley's ranking.
Ashley Moves Up to 83
Ashley moved up to number 83 in the rankings after her Australian Open performance. After winning three matches in qualifying she won a round and defeated a top 50 player in the main draw at one of the four Grand Slam events. Lots of points. Enough points to mover her up 24 spots in the rankings.

This will all but assure Ashley of a main draw entry into the French Open. She has a couple of small tournaments to defend but she'll be playing some bigger tournaments this spring which will surely garner her more points and a potentially much higher ranking by the French Open.

Ashley was qualifying in Japan at the Toray Pan Pacific Open but lost in the first round to Rika Fujiwara. Ashley probably shouldn't lose to a player such as Rika especially after how well she played against Maria in the open. Sometimes players just have that happen to them and it happened to Ashley in Japan.

Ashley is up to number 34 in the race to the chase as well. Ashley isn't that far out of the top twenty either. Getting into the top 8 for the season ending tournament will be a chore. That would be fun to see for Ashley and her fans.
Ashley Puts In A Great Aussie Open Performance
Ashley had an excellent Australian Open despite going out in the second round, losing a tough and close match to Maria Sharapova. Ashley had set points against Maria in the second set but just couldn't quite finish the job. The second set was played quite well by Ashley and even though she couldn't quite finish the set off she showed big signs of making a great come back overall.

Ashley lost the first set to Maria 6-1 but made some good shots and showed that she could play with Maria. In the second set Ashley kept threatening to take control of the set and held serve and the lead until 3 all then Maria broke Ashley. Ashley showed great heart and resilience by immediately breaking right back to even the match back up at 4 all. Ashley then held serve and had three break points on Maria's serve that would have given her the set. However, it is Maria we are talking about and she stepped it up just enough to hold Ashley off. Ashley did make Maria beat her and at this stage of Ashley's career it was a great match for despite the loss.

Ashley blasted her way out of qualifying and mopped the court with 56th ranked Shuai Peng in the first round of the Open. Then Ashley drew Maria in the second round. On the day Ashley played Maria, she probably would have defeated just about anyone else in the draw outside the top ten. It was just the luck of the draw for Ashley. The good news for Ashley however is her steady improvement since starting her come back in April of 2005.

More than one expert has picked up on Ashley's performance and almost all agree Ashley can easily get back inside the top 50 and the top 30 isn't out of the question Can Ashley make the top 10? There are some out there that believe Ashley has the basic skills to get to that level of play but like Hingis she will have to figure out a way to get by the big hitting power players like Maria and the Williams sisters. You don't have to be a power player to be number one but you do have to out think and out maneuver the competition.

Over all Ashley showed she can hang with the top ten, now can she improve herself the slight amount that divides the top ten from the rest of the field. Ashley has the heart and the fight but does she have the patience and the drive, that remains to be seen. Harkleroad fans everywhere believes she does and they are pulling and cheering for her everyday.
Fantastic Start To The Aussie Open
Ashley is off to a fantastic start at the Australian open. Ashley had to go through qualifying but she blitzed her way through with ease and room to spare. Ashley lost only 8 games in three qualifying matches, twice winning sets at love.

Ashley then blasted her way out of the first round on day one of the main draw running all over Shuai Peng 6-4, 6-1 never losing her serve in the process. In three qualifying matches and one main draw match Ashley has lost only two games in the second sets. Ashley has lost a total of 13 games in four matches but now heads in to a show down with Maria Sharapova.

Sharapova will not be like the easy matches Ashley has had so far. Maria in tenacious, can move around the court and is a big hitter. It won't be easy for Ashley but she does have a punchers chance against Maria. Maria does have a bit of a sore shoulder and playing Peng in the first round will benefit Ashley. Peng hits the ball almost as hard as Maria helping to prepare Ashley for Maria's big hits.

In previous meetings Ashley played Maria tough on the hard courts in Pittsburg, although she struggled against Maria on the grass a Wimbledon. The rebound ace in Melbourne may be just what Ashley needs to give Maria a tough match. The surface in Melbourne will sit the ball up and extra second or two and Ashley's speed around the court will combine to help Ashley get a lot of balls back giving Maria more room for making errors. Ashley then needs to dictate the play buy serving to Maria's forehand in the ad court and her backhand in the let court keeping Maria on the outside edges of the court.

If Ashley can dictate the play, keep the ball wide on Maria's forehand and keep her moving around the court more than Maria moves her, Ashley has a chance to win this match.
Ashley is Through to Main Draw
By Dale Budge at the ASB Tennis Centre

American qualifier Ashley Harkleroad is through to the main draw of the ASB Classic after beating Croatian Jelena Kostanic 6-0 4-6 6-3 on a windy court four at the ASB Tennis Centre on Monday.

Having stormed through to the 2004 tournament, eventually making the final Harkleroad is well known to New Zealand fans and clearly enjoys playing in these conditions.

"I am very delighted. I am happy to be back. I love this tournament," the 20 year old told reporters after making the main draw.

Harkleroad breezed through the first set in a touch under 20 minutes without dropping a game. She started so dominantly that Kostanic didn't register a single point until the third game.

Harkleroad then broke early in the second set to take a commanding 3-1 lead before she began to falter in the wind.

The gusty conditions affected both players' serves but Kostanic was able to find her rhythm quicker and managed to kick-free of the arm-wrestle and claim the second set 6-4.

But the third set was mostly Harkleroad as she exercised her strong back-hand and used her athleticism to out-manoeuvre the Croat.

Harkleroad will face fellow American Jill Craybas in the first round of the main draw on Tuesday.

The qualifier has some form against Craybas in Auckland, she beat her in 2004.

Harkleroad missed last year's tournament after taking a nine-month break from the sport while she got a new a focus on life.

"I have got perspective now. I know what I am playing for now.

"Even though I wasn't playing tennis I was teaching it."

Having once been ranked 39th in the world, Harkleroad's ranking dropped outside the top 200 but she arrives in Auckland ranked 119.

As she embarks on another year on the WTA tour, Harkleroad is not trying to do too much in 2006 simply looking for small gains.

"I would like to get back in the top 100. I am just setting small goals."
Qualifying Through Two Rounds
One of the popular players of the past few years, Ashley Harkleroad who defeated Claudine Schaul of Luxembourg in round two of qualifying on Sunday 6-1 6-3.

Harkleroad displayed why she was a finalist here in 2004 and why she has an overall record - including qualifying results of 10-2 in Auckland as she played smart consistent tennis to move one step closer to reaching the main draw.

Ashley was down 2 games in first round qualifying against Hungarian Agnes Szavay before coming back to win 6-2 7-5.

The former world No39 now faces the qualifying draw's top seed, Jelena Kostanic, for a place in the main event.
ASB Classic
Ashley is in the running for the final wildcard spot at this year's ASB Classic. The ASB Classic has been Ashley's best WTA tournament since making the big show. Ashley is 8-2 at the Classic. In 2003 she qualified and went to the 2nd round where she lost to eventual champion Gagliardi but did have a match point against Gagliardi. In 2004 Ashley came back strong again going all the way to the final before losing to Daniilidou. Ashley had her best win to date at the 2003 tournament and beat another top 20 player in Anna Smashnova in 2004.

Ashley seems to play very well in the heat. She has won 4 ITF tournaments in the heat of summer and seems to play well down under during their summer too. Look for Ashley to have a good tournament whether she has to qualify or if she gets the wildcard. Let's all hope for a great start to 2006.
Recent Results
Ashley lost to Dechy at the Bell Challenge 4 and 1 but did team up with Leka Dekmeijere (LAT) to make the finals. The were benefited by a walk over from the #1 seeds and forced Rodinova/Vesnina to three sets in the final.

Ashley then moved on to Pittsburg, a $75,000 ITF tournament. Ashley lost to eventual tournament champion Lilia Osterloh in the second round 2 and 2. Ashley then teamed with friend Bethanie Mattek in doubles defeating the number two seeds in the first round, eventually going all the way to the finals losing to Teryn Ashley and Carly Gullickson 1 and 0.

Ashley then was scheduled to play Tucson but pulled out before the first round started.
Ashley Faces Dechy @ Canada's Bell Challenge
Ashley will face France's Nathalie Dechy in the first round of the Bell Challenge being contested this week in Quebec City, Canada. There are more than a few out there expecting Ashley to turn in the upset. Ashley has played Nathalie once before at the Italian Open, a surface that probably aided Dechy more than it did Ashley. Now on the hard courts Ashley's speed and quickness around the court could make it a different story this time around. Ashley still has a good record against even top 50 players when she faces them a second time or after a loss during the last meeting on the court.

The draw doesn't look too tough for Ashley. She has a legitimate shot at the final. She may not make it but don't be surprised if she does.
Asian Results
Ashley didn't have the Asian tour she hoped to have we are all sure of that fact. However Ashley is playing at the WTA tour level now and that is the only way you will see her continue to improve her game and get back to the level she is capable of playing.

Ashley was in the main draw for Guangzhou International and played Tiantian Sun in the first round. Sun, ranked 1 spot ahead of Ashley in the rankings but like Ashley is also better than her ranking. Ashley played her tough and won the first set before Sun seemed to dominate the next two sets. Ashley also played doubles with Trudi Musgrave (AUS) They played a tough three set match before losing to the Uberoi sisters.

Next was the Japan Open. Ashley had to qualify and just missed getting into the main draw in her third match of the tournament. Ashley lost the qualifying match to Castellvi after winning the first set and just missing the second set losing in the tiebreaker 7-4. Ashley then lost in a close third set to miss the main draw. Ashley also played dubs again with Musgrave again going out in the first round.

Ashley then played the Thailand Open and had to qualify again. Ashley won easily in the first round but then lost a close second round match to Hsieh. Hsieh then went on to qualify for the tournament. Ashley didn't play doubles this time around.

Ashley has spent several weeks over in Asia working on her game. She had some good matches and a couple that probably weren't too her liking. However she did gain a few points that she didn't have before and some experience again at a higher level of tennis. Ashley isn't that far out of the top 100 and if she plays the ASB Classic in January as well as she has in the past she will likely get back inside the top 100 where she can continue to build on her ranking.
Ashley is Playing China
Ashley is playing the Guangzhou International Women's Open 2005 this week in Guangzhou, China. Ashley is in the top half of the draw and it is clearly the tougher half. If Ashley were to make the final she will probably be favored over just about anyone in the bottom half.

The top half is a little bit tougher and could easily keep Ashley out of the final. However she should easily go two rounds to face Zvonareva in the quarters. However this is Vera's first match back and would be a perfect opportunity for Ashley to take down another top 20 player. I think you just might see Ashley do exactly that. Kirilenko will probably be the semi-final opponent. Kirilenko is playing excellent tennis right now. It would probably be a better win for Ashley than Zvonareva at this particular junction of the tour.

Some interesting match ups in the first round include Kutuzova/Jackson, Gullickson/Zheng. Ashley faces Sun in the first round and won't be an easy match. Ashley could lose in the first round no doubt about. However if she gets by Sun, look for her to make the semi's especially if she gets by Sun in straight sets.
US Open Didn't Work Out
The US Open didn't work out to well for Ashley this year. Ashley had a recurrence of minor alignment that hampered her a little earlier in the summer. She was unable to practice much on Sunday and then it was just enough to hamper her efforts in her first round match. If you watch the scores on the internet Ashley had some leads in several games but was unable to close anything out as she was unable to play at the top of her game. Ashley finally retired in the middle of the second set when their was obviously no reason to play on under those conditions.

Ashley then played doubles with Lindsay Lee-Waters but they ran into Navralatova and Groenfeld in the first round and that wasn't a good first round match for them to play under the circumstances. Ashley has defeated Martina in doubles in the past but it wasn't meant to be at this Open.
Ashley Into the Semi-Finals
In a match delayed by rain for three hours and fifteen minutes, Ashley upset number one seed Julie Schruff 6-3, 6-2. By ranking and seeding it was an upset but the way Ashley has been playing, we all know better. Ashley is dominating the ITF tour right now. The win puts Ashley in the semi-finals yet again. This is Ashley's sixth straight semi-final appearance.
Ashley will face Camilla Pin in the semi-finals. Ashley is 1-1 against Camilla Pin this year. Ashley said the rain delay for her quarter final match on Friday didn't bother her. She stated that she was used to it and that it didn't bother her. "I'm used to this kind of weather from Wimbledon." Ashley further stated that it was nice to beat the top seed and would give her an advantage going into the U.S. Open. After the Bronx Ashley will take the week off and watch her husband try to qualify for the U.S. open.
Harkleroad Moves Closer to Third Title
Aug 18, 8:48 PM (ET)

NEW YORK (AP) - Ashley Harkleroad, who has won two titles on the Challenger tour this year, beat Yulia Beygelzimer 6-2, 7-6 (3) on Thursday to advance to the quarterfinals of the GHI Bronx Tennis Classic.

"My game has improved steadily this year," said the 20-year-old Harkleroad, who married ATP Tour player Alex Bogomolov last December. "I won three matches to qualify for Wimbledon but lost to Jill Craybas in the opening round. After a three-month layoff I returned and won in Louisville and Washington, D.C. and was the runner-up in College Park. My ranking went from 215 to 140 and I have already received a wild card for the U.S. Open".
Ashley Continues Roll Through USTA Tournaments
Ashley continued her roll through the USTA/ITF Challenger series of tournaments chalking up her second win in three tournaments. Ashley has played five straight semi-finals making the finals three times and winning two of the three. This includes making the final in three of the last four. You then have to figure she just had a slightly off day in Lexington, losing in three sets and just missing four straight finals. Her first semi-final loss was 2 and 3 to Gullickson in Charlottesville. Even though Carly is a bit inconsistent she may have been the best all around player Ashley has faced since her comeback began. Only Carly's inconsistency keeps her out of the top 100 and probably the top 50. Ashley however was just starting her comeback in Charlottesville after starting off the season in Dothan and showing some good progress right from the start.

Ashley has also had a pretty good run in doubles. She's made one final and has teamed with Julie Ditty to put on a strong showing in the last couple of tournaments. Ditty is a very good doubles player. Ashley and Julie compliment each other pretty well as a doubles team.

Details on the win are not yet available but check back soon for more.
Ashley Is In Her Fourth Straight Semi-Final
Excerpts From the Lexington Hearld-Leader
DuBois will face Ashley Harkleroad, who disposed of Vania King 6-2, 6-4.

Harkleroad, who was once ranked as high as 39th professionally in the world but dropped after she tore a ligament in her right elbow, said she's just focused on getting back to normal.

"My goal is to get back to that point, but I'm not in any rush. I'm just working on my game," Harkleroad said.

However, that doesn't mean that she wouldn't enjoy winning the tournament.

"I won a tournament in Louisville, so I like Kentucky," Harkleroad said. "If I win this tournament I think I might move here."

Harkleroad, Ditty move on

THIRD SEED EMPHASIZES IMPROVEMENT

Third-seeded Ashley Harkleroad showed why she reached No. 39 in the world a year ago, and unseeded Kentuckian Julie Ditty relied on her scorching forehand during first-round victories in the Fifth Third Bank Tennis Championships last night at UK's Boone Tennis Complex.

"I'm trying not to put too much emphasis on winning or losing, but keep working to improve instead," said Harkleroad, who is now ranked No. 137 after taking nine months off to rehabilitate a torn tendon in her hitting elbow and to be with her mother, who had been diagnosed with cancer. She returned in April.

Harkleroad, who won the Louisville Challenger two weeks ago, defeated Kristen Schlukebir 6-2, 6-3. She decided to return to Kentucky rather than fly to California for an event offering more prize money because of proximity to her Chattanooga home.

"I'm in a good place in my life and in my tennis right now," said the 20-year-old, who married tour player Alex Bogomolov Jr. in December. He is seeded second in doubles here with Jeremy Wurtzman. They beat former University of Kentucky All-American Jesse Witten and Andrew Colombo last night.
Ashley Wins!
Ashley is back on the winning track we are all used to seeing. Ashley defeated Severine Beltrame (FRA) in the final of the Yum Brands/Pepsi $50K tournament in Louisville, Kentucky. Ashley had not been feeling well as the next article below will attest, however Ashley showed signs of a true champion by going out and competing and winning in spite of how she was feeling physically. It's a testament to Ashley's will and heart, especially when she is mentally prepared to play. Ashley lost the first set 6-4, and then won a tough second set 7-5 before blitzing Beltrame in the final set 6-0.

Ashley was suppose to be in qualifying in the WTA tournament in Cincinnati but with her winning continuing in Louisville she passed up the WTA event. It paid off to some degree as Ashley went out and won the tournament. With her illness she actually needs to take this next week off and recuperate. The WTA event had the potential to offer a lot more points but Ashley instead collect the 35 points for winning plus the additional quality points for opponents rankings. Look for Ashley to move up to about 139 or so this week in the rankings.
Ashley Wasn't Feeling Well This Week
Harkleroad-Pratt

At least now Harkleroad knows why she hasn't been feeling well recently.

The 20-year-old from Georgia said she was diagnosed with a urinary tract infection after Friday's three-set victory over Camille Pin. Harkleroad started developing stomach problems during last week's loss to Pin in College Park, Md.

During Friday's match, she complained of sharp pains throughout her stomach and back.

"I was in more pain than I've had in the last week," Harkleroad said. "I was playing, but I was bending over. I could not straighten up. … They thought I had ruptured my appendix."

A doctor treated Harkleroad for a urinary tract infection.

"He gave me some medicine," she said. "I should be fine in about a week or so. … I literally thought I was going to die. (Today) in the warm-up I felt very exhausted. I thought it was going to be difficult. I didn't eat hardly anything yesterday."

But she came out strong.

Pratt seemed to be more bothered. The Australian was not pleased with the officiating.

"Ashley played well," she said. "In the first set she had maybe two unforced errors. That made it tough. But yeah, I was upset about a few calls, vital calls on the service line that I felt were long. But that's the way it goes sometimes in a tennis match."

Ashley Avenges Loss to Pin

Ashley avenged last Sunday's loss to Camilla Pin in the quarter finals of the Yum Brands/Pepsi $50K tournament in Louisville, Kentucky today. In a hard fought match Ashley defeated Pin in a three set match 7-5, 4-6, 6-3. Once again Ashley avenges a loss and avoids losing two in a row to an opponent. One of two of Ashley's trademarks in her tennis career, the other one being coming from way behind in third and decisive set to win the match.

Ashley got her second chance at Pin in less than a week when Lee-Waters had an angle giving her trouble and she gave Ashley a walkover. The bad news in winning the walkover from Lee-Waters was that Lee-Waters was Ashley's doubles partner this week. The pair had to pull out of doubles because of the injury.

Ashley Moves on to meet Lee-Waters

Ashley seemed to have a relatively easy time with Julie Ditty although Julie did give her a match as expected. Ashley defeated the Vanderbilt graduate 6-2, 6-4 to set up a match with good friend and doubles partner Lindsay Lee-Waters. The last time they met Lindsay pulled out a 3 set victory. They have played three matches against each other professionally with all of them going three sets. Ashley also has a reputation for not losing to a player twice in a row. Look for a win for Ash.

A Look at the Louisville Tournament

When you look at Ashley's draw for this tournament, you have to want to be there to see it all unfold. Ashley is in the tournament on a wildcard and right off the bat she has to face a very good lefty in Julie Ditty. Ditty has improved her game over the last year or so and hits a solid ball. A graduate of Vanderbilt, Julie has enjoyed a few years on the tour slowly improving her game. She hits the ball hard which Ashley likes to see coming her way. Ashley should beat Julie but it will be a very entertaining match for the tennis fan.

Next Ashley would face the winner of a very interesting first round match between Tara Snyder and Lindsay Lee-Waters. Snyder is climbing her way back from injury and Lee-Waters defeated Ashley the last time they played. Both players hit very hard balls with some pace, again just what Ashley likes. If Ashley gets past Ditty, whomever she faces in the second round will be another great match to watch for even the "I only watch the Grand Slams" tennis fan.

The quarter finals could see a rematch of the final in College Park final just last Sunday. It is most likely Ashley will face Camilla Pin again in the quarters. Ashley rarely loses twice in a row to the same player, especially in successive tournaments. The semi-final could then see a rematch with Bammer, another College Park opponent, also in the semi-final. The final is anybody's guess but I would suspect Uberoi, Peterson or Beltrame to make it to the final.

Ashley Makes the Finals Before Her Run is Stopped

Ashley didn't quite finish of the tournament in College Park as she would have preferred. Ashley lost both finals, single and doubles, Sunday. The silver lining may be that it was in three sets each time.

Ashley lost to Camilla pin 2-6, 6-2, 6-3. Ashley and doubles partner Svetlana Krivencheva also lost in three sets to Argeri/Sobral 6-4, 3-6, 7-6(1).

The highlight of the tournament may have been Ashley's match against Bammer in the semi-finals. Ashley was down 5-2 to Bammer in the final set only to put on won of her patented come backs winning 4 of the last 5 games of the match to force a tiebreak her semifinal match. Ashley then won the tiebreak and the match to get into the finals 6-2, 3-6, 7-6(2).

-----------------------------------------

Ashley blasted her was past Varvara Lepchenko 6-3, 6-2 to get into her first semi-final match of the year on the USTA tour. Ashley will face Sybille Bammer (AUT) for a chance at the finals. This tournament is Ashley's to lose. Bammer is ranked around 147 but should be too much of a threat to stop Ashley in the semi's. Pin or Pratt will show for Ashley in the final. Pratt may be a bit more of challenge for Ashley than Pin but unless Ashley's game just falls apart expect Ashley to hold the trophy on Sunday afternoon.

---------------------------------------

Lepchenko really was Ashley's kind of opponent. She smashes the ball hard giving Ashley the pace she likes. That just sets Ashley up to play her brand of tennis. Ashley's father said she played very well in the match. Ashley also teamed with Svetlana Krivencheva to reach the doubles semi-final. It's not as clear as to how well this team will do but they have played well together in past tournaments and so far in this tournament. They already defeated the #4 seeds in straight sets and Julie Ditty and her partner Teryn Ashley were gone in the first round. You just might see Ashley double up on Sunday.

Ashley pounded Bethanie Mattek in her second round match. After winning the first set decievely at 6-2, Ashley actually fell behind to Mattek in the second set. Ashley spotted Mattek a 5-2 lead before cruising through five straight games to win the set 7-5 to finish off the match. Ashley also won her doubles match in which Mattek was also the opponent.

Ashley won her first round match against Romanian qualifier Anda Perianu 3-6, 6-1, 7-5 and will now move on to face her good friend Bethanie Mattek.
Ashley Playing in College Park
Ashley is playing in College Park, Maryland this week and has a good chance at winning her first tournament of the year. After coming off a very encouraging Wimbledon, despite a first round loss to Craybas (who did beat Serena,) Ashley seems primed to take her first tournament win of the year.

Ashley will face a qualifier in the first round then her good friend Bethanie Mattek in the second round. Mattek may give Ashley a tough match but she should win in two sets. Lepchenko will be next unless she just totally goes flat or is injured in her next round match. This is potentially the Championship match showing up in the quarter finals. The winner between Harkleroad and Lepchenko should win the tournament.

The semi-finals are likely to be either Julie Ditty or Jewel Peterson. Either player has the ability to give Ashley a tough match but with different skill sets. Peterson has a lot of foot speed and hits a solid ball. Ditty is very consistent and doesn't make a lot of errors when she is playing well. Ashley should beat either in two sets but a three set semi-final wouldn't be a complete surprise.

There is nobody in the bottom half of the draw that Ashley shouldn't blitz off the court in straight sets and maybe even at 2 and 2 if her game up to par. Obziler is likely to be the opponent looking at the draw and has the most potential to give Ashley a tough final.
Ashley Falls to Craybas
Ashley had 3 tense hard fought sets with Jill Craybas at Wimbledon Tuesday, June 21st. In the end Craybas was able to pull out the win over Ashley. Craybas won the first set 6-4, only to see Ashley come back in the second set, winning that set 6-4. They went to the third set to see who would get to play Marion Bartoli in the next round.

Ashley fell behind early in the set. At 4-1 Craybas Ashley ran off three games in a row to tie it at 4 all. Then serving to go up 5-4, Ashley was broken back by Craybas allowing Craybas to serve for the match. Ashley fought to 30 All and then deuce before finally bowing out to Craybas

Ashley had to go through qualifying to and then had a hard fought first round match giving her a pretty good showing overall at the 2005 Wimbledon. Ashley is only in her third month back after an extended layoff. She was pretty excited after qualifying for Wimbledon. While losing in the first round is a bit discouraging, her overall progress recently is a very encouraging sign. One thing is for sure, her fans are glad to see her back in action.
Ashley Qualifies / Wimbledon Preview
Ashley qualified for Wimbledon with a 6-4 6-2 win over Kirsten Flipkens. Looking at Ashley's draw she should be able to continue winning for at least two more rounds until potentially she could face Serena. However, Serena may not be there, looking at her draw and considering she is slightly injured, Angela Haynes may take her in the first round.

You have to like Ashley's draw for the first two rounds. Craybas won't be a push over but on grass Ashley ought to be better. Jill beat Ashley the last time they played. In that match Ashley got the blister on her hand and had to retire. Bartoli will likely be next and Ashley and Marion have had some good matches but again on grass I think Ashley has an advantage. Ashley holds an advantage over Bartoli in wins.

After that would be (Serena according to everybody.) Tennis Reports is saying that Ashley will challenge Serena. I know Ashley can if she has a good game plan. The Williams sisters actually have a flaw that's easily exploited in my opinion. They play a wild brand of Tennis. You have to keep them moving and they will make errors. Nobody seems to be able to do that. You have to keep the ball going cross court........sometimes that's a little risky because you miss. Ashley can work cross court very well however and think she could beat either of them with that strategy.

Here's my surprise prediction however. Serena won't be there. Angela Haynes will upset her in the first round. I actually think Poutchek will then show in the third round.

After that its Venus or Hantuchova. Probably Venus. Again Venus can be beat and Ashley has the ability to beat either of the Williams if she plays well and has a game plan that will keep Venus hitting running forehands and moving backhands for Serena. If you make them hit a couple of extra shots they will net it or hit it wide.

After that it's likely to be Henin. That would be a tough match considering how well she's playing right now. Grass however may equalize it some for Ashley. Then comes Maria..................no one is going to beat Maria. She may win seven or eight of these things before she's done.

Realistically Ashley can make it and probably should make to the third round.

From the third round on it depends on Ashley's mental attitude. If she's confident I really like her draw. Ashley could be so confident going into the third round that if she figures out a way, early to score points on Serena (if she's there) Ashley will surprise the tennis world.

Ashley plays a more precise and smarter game than the Williams, she could surprise both of them just like Hingis did in Australia in 2000 I think it was. Ashley will have to beat them by thinking, looking and creating cross court openings.

Ashley can run off several matches in a row. She's done it before when no one expected it. She might be in that mode again.
Ashley Gets Two Wins
Ashley is playing qualifying rounds at Wimbledon and so far with good success. Ashley moved through to the third round of qualifying after defeating Tzipi Obziler (ISR) 6-4, 6-2. A win over Kirsten Flipkens of Belgium will put Ashley into the main draw for the fortnight at Wimbledon.

Flipkens is a year younger than Ashley and has played some good tennis in the past but has slipped a bit lately in the rankings. A top 100 ranked common opponent is Emily Loit. Both Ashley and Kirsten have defeated Loit. Flipkens also defeated Lindsay Lee-Waters in the opening round of qualifying another common opponent and a good friend of Ashley's.

Obziler was the 15th seed in qualifying. A good quality win for Ashley even if it was qualifying. Ashley defeated Lucie Hradecka (CZE) in three sets. Ashley won the first and third sets with ease but allowed Hradecka through for the middle set. A win over Flipkens will put Ashley into the main draw of the Championships Wimbledon.
Ashley's Progress
Ashley has made some good progress this spring, after taking an extended break from the summer of 2004 to April of 2005. She says she is having fun now and is playing tennis for the right reasons this time.

When you look at Ashley's contemporaries, she can be as good as she was touted to be, despite some of the naysayers, mainly in the media. The key for Ashley's continued improvement is completely up to Ashley and it is mainly inside her head. She has struggled some with her mental game in spite of the fact that early on it seemed her mental game was her best weapon. Ashley has struggled some this spring with her mental attitude. She has had some good results on the ITF circuit but only she has prevented a win. This isn't to criticize Ashley, but more of an observation. Mental attitude can sometimes be the biggest obstacle and based on her play it seems to be the key to Ashley's success.

If you look at Ashley's contemporaries is there any question about whether or not she has the ability to defeat them on the tennis court. Ashley has actually defeated a U.S. Open champion and that champion isn't any better than Ashley in her skills. In fact Ashley may be head and shoulders above Kuznetsova, the Champion in question and ranked 5th in the world right now.

Ashley has defeated four other top current 20 players as a professional. Two of the top 20 are players she came up with through the juniors. Jankovic is ranked 20th and just played the final in Birmingham, England against Maria Sharapova. Jankovic is just another top 20 player we know Ashley can compete with on an equal level. Then there is Maria. Ashley hasn't defeated Maria as a professional but she has given her all she ever wanted. Ashley lost a tough hard fought three set match against Maria when those of us that follow the ITF players were predicting the pair to play on Saturdays against each other one day.

Ashley still has the potential to play on a Saturday in a WTA tournament. She is showing good progress this spring. If Ashley can just continue to believe in herself she can make the potential she dreamed about at one time. One key to Ashley's success by her own admission will be to focus on tennis and avoid on the side attractions as well as just going out there and just having some fun playing her game.
Ashley Improves in Charlottesville
Ashley made some big strides in a short period of time in her efforts to make a comeback to the WTA tour this week in Charlottesville, making it all the way to the semi-finals before finally losing to Gullickson who is herself making a solid run at a potential WTA career. Ashley lost 6-2, 6-3 to Carly who was on top of her game Saturday.

Ashley threatened to pull off one of her comebacks that those of us that have followed her are accustomed to seeing quite often. Down 5-0 in the second set Ashley broke Carly twice to make it 5-3 before Carly finally pulled herself together to close out the match. Ashley then teamed with Lindsay Lee-Waters later in the day to reach the doubles final.

Clearly Charlottesville has seen Ashley pull her game back together and it is greatly encouraging to Ashley and all her fans. Ashley showed up in Jackson Mississippi just 4 weeks earlier having not played a match in almost 8 months, ready to make a comeback. Ashley hadn't even played a practice match before she faced Lina Stanciute (LTU) and pushed her to three sets before finally losing 6-4, 1-6, 6-4. Do the math...........Ashley won more games but lost the match. The lack of play seemed to hurt the mental portion of her game in her first match back more than the physical skills portion and she just couldn't pull out the win.

Ashley then went to Dothan where she handled a tough Samantha Reeves, who is also a bit on the comeback trail, 6-3, 6-4. Ashley then ran into Edina Gallovits who has been very dominating on the clay this spring winning 10 of 11 matches in the previous couple of weeks. Ashley pushed Gallovits to 3 sets and was not happy with herself after losing 6-3, 6-7(4) 6-1. Gallovits frustrated Ashley with a lot of looping shots. Ashley knew it was a match she could have and maybe should have won. Ashley looked good in her match against Gallovits, in only her third match back. Once again, she seemed to lack the mental wherewithal at times during the match. This is not to criticize Ashley's game it's just part of the routine of making a comeback. The physical tends to be a little ahead of the mental early on when a player hasn't played in awhile.

Ashley then went to Raleigh, where she lost in a first round match to Cory-Ann Avants in a match this writer didn't have to see to know that Ashley should have won. Cory-Ann has been playing atrocious tennis of late and really has no business beating Ashley in the first place. Some speculation was that this goes back to last year when Cory-Ann once again beat Ashley, and Ashley made a comment to Cory-Ann about her (Ashley's) play not being up to par. Cory-Ann may have had some newspaper clipping type fodder in the back of her mind when she played Ashley. Cory-Ann was probably very motivated to prove to Ashley the last victory was no fluke. Ashley rarely if ever loses to a player twice in a row at this level and if they meet again, look for Ashley to candy-wax Cory-Ann the next time out.

Ashley has also improved her doubles ranking playing with Lee-Waters after being outside the top 900 due largely to lack of play.
Ashley Playing Some ITF/USTA Tournaments
Ashley will be playing a some ITF/USTA in April including the $75K in Dothan, Alabama. Reports in the Dothan Eagle have Ashley playing the exhibition match Monday night. Ashley also received a wildcard into the main draw. Ashley will also be playing in Mississippi at Tunica Resorts and Jackson Mississippi before playing the tournament in Dothan.

Reports are that Ashley isn't planning a full time return to tennis. Only Ashley and those close to her actually know whether or not she intends to play full time again. Her fans will just have to sit back and wait to see, to see if she gets the fever again.
Ashley Appears on the Come Back Trail
Ashley is apparently on the come back trail. www.harkleroad.net was tipped off by an anonymous email that Ashley was indeed practicing to get back on tour. Talk at a junior tournament in Dothan, Alabama was that Ashley was indeed out "hitting" to get back into playing condition. As more information comes in www.harkleroad.net will keep you informed.
Is Ashley Retired?
Well it looks as though Ashley is at least temporarily retired. For those of you who don't know (it has been on the internet) Ashley recently married Alex Bogomolov Jr. Ashley has been dating Alex for over a year and was seen at the 2003 Orange Bowl Championships sporting a big rock. Late in 2004 they sealed the deal and were married.

A lot of speculation by those in the know along the WTA tour was that the nagging injuries were what has put Ashley on the sidelines for an extended period. There are some that are saying she will never be back. That's obviously totally up to Ashley but at least for now Ashley is semi-retired.

At www.harkleroad.net we were looking forward to watching Ashley in 2005 and had some improvements for the website planned for 2005. As of know everything is obviously on hold. Ashley has a lot of fans already and she will be missed on the tour this year.
Ashley is Taking a Break
Ok, a lot of Ashley's fans have been asking what is going on with Ashley? Well Ashley is taking some time to rest her body and attend a few classes this fall. Ashley won't be playing the Advanta Championships and that will hurt her ranking. Going into the summer season down under that may be an issue.

Ashley's ranking won't allow her to play most of the season down under without qualifying. You can assume she'll get a wildcard into the ASB Classic but beyond that it's debatable whether or not Ashley will play in the main draw of any other tournament.

This brings up one question for Harkleroad fans. Is Ashley finished with Tennis? Everyone is asking it. Only Ashley knows at this point. One could speculate about what is going on, but on this site we won't do any speculation.

Everyone on this site and the Yahoo club site has seen Ashley's talent. She has more fans than probably any player outside the top twenty. They all want to see her do well in whatever she does but they mostly want to see her play tennis. Some question whether or not Ashley understands the opportunity she has with Tennis. Rest assured however, Ashley will make the right decisions for Ashley no matter the decisions.

With Alina Jidkova upsetting Serena recently, Ashley can make her dream of the top ten clearly. The question right now is, does she want too?
Ashley Reported To Be Playing the Advanta Championships.
News reports out of Philadelphia are that Ashley will play the Advanta Championships again this year. Ashley has been nursing a sore shoulder since before the U.S. Open and didn't play the Open because of the injury.

Ashley has also been getting some coaching recently from Patricia Tarabini. Tarabini is ranked 54 in doubles and plays doubles exclusively.

Ashley's ranking has slipped to 108 and that makes getting into the Grand Slams a borderline proposition. Ashley needs to have a good showing at the Advanta Championships to help her ranking for the summer down under. Ashley went to the second round defeating Likhovsteva and then losing to Shaughnessy. So Ashley does have some points to defend and needs to gain a few at this tournament.

There are a couple of $50K tournaments left on the ITF tour in US later in the year, don't be surprised if you see Ashley at them working on her game. The Advanta Championships is the last WTA tour event of the year.
Ashley Is Not Playing the U.S. Open
Ashley will not play the U.S. Open this year. It also appears that Jennifer Hopkins has replaced Ashley in the wildcard spot. Ashley doesn't have an injury that's the good news. However the reasons she pulled out would only be speculation and inappropriate to discuss anyway. Let's just say, that if are a fan, don't worry, Ashley will be back very soon. Look back soon for Ashley's status.

It's not clear that Jennifer Hopkins got Ashley's specific spot but Jenny didn't get one of the original wildcards, she does have one now. That's good for Jennifer and as far as www.harkleroad.net is concerned it is a perfect replacement. Hopkins is an American player that probably works harder than any other player on the circuit. She is fun player to watch and has been playing a lot better lately as she picked up a new coach about the time of the ITF $75K tournament in Dothan earlier this year. She has played at a top 100 level since that time and deserves a spot in the open.
Ashley Gets A Wildcard Into The U.S. Open
Ashley was one of several Americans to get a wildcard into the U.S. Open. Normally a 93 ranking would get you into the main draw of the open but at the time of acceptance Ashley was at or around 115. Ashley then had to accept the wildcard into the open. Ashley does have a few points to defend (one round) but really needs to go three or four rounds to improve her ranking back to where it probably should be at this stage of her career.

Ashley has had some nagging injuries and a couple of personal issues that have slowed her up some this summer but that is mostly all behind her now. She has been able to play some lately. For Harkleroad fans you have to hope that converts to two or three wins at the Open.
Ashley Gets a Wildcard in Cincinnati - Ranking is up to 93
Ashley has moved up to #93 in the rankings, finally getting back inside the top 100 where she belongs. That means she probably won't need a wildcard or have to qualify for the U.S. Open.

In the meantime Ashley has received a wild card into the Western & Southern Financial Group Women's Open in Cincinnati next week. Ashley suffered a mild shoulder strain during last weeks Rogers Cup in Montreal but will be ready for the tournament next week in Cincinnati.
Shoulder Strain Forces Ashley to Withdrawal in Montreal
After easily defeating Francesca Lubiani of Italy and getting up a set on Junior Tennis nemesis Angelique Widjaja, Ashley was forced to retire against Widjaja with a shoulder strain. This is the first time Ashley has suffered this kind of injury, it is only minor and she has been reported as doing better already.

Ashley and Angelique have had some very tough battles against each other from time to time and both still have the potential to make big gains in women's tennis. Ashley and Angelique have had some early success on the WTA tour, then fallen on some harder times as they adjust to the next level of tennis.

Depending on how the shoulder goes you may not see Ashley until the Open. Even though Ashley hasn't advanced past the second round this summer she has had some quality wins. Her game seems to be coming back together after a rough spring. Ashley seems to have her mind into her game and has worked hard over the summer to improve. Ashley has set herself up for a good shot at winning a few rounds at the open this year. She will need a bit of a favorable draw. Ashley probably isn't quite ready to face the top 10 or so in the first or second round yet this year. Ashley does have the mental capacity to play great tennis and defeat the top ten, she has struggled early in the year to reach the expectations of many of the tennis pundits. Ashley has probably struggled more from the mental pressure than the physical pressure. That all seems to be past her now. All she needs to do is go out and have fun at the open. The rest will take care of itself.
Ashley Finds Buzz Saw
The preview for the match between Ashley and Amy Frazier revealed that there is a possibility that the match would start on Tuesday and they would still be playing on Friday. Neither player makes very many unforced errors and they get a lot of balls back. You also had the possibility that if one was really on and the other was off just a little bit then one would dominate the other during the match.

Well that's what happened. Amy wasn't missing any of her shots. Ashley just ran into a buzz saw and got drilled. Amy has been on a roll the last few tournaments, playing and defeating even the top ten. After Ashley won an exciting match over Patty Schnyder on Monday, playing Amy seemed like a match Ashley could win. It wasn't to be this time as Amy had her game in high gear, defeating Ashley 6-2, 6-0.
Ashley Outlasts Patty
CARLSBAD, Calif. (AP) - Ashley Harkleroad scored one of the biggest victories of her career, beating 13th-seeded Patty Schnyder 6-4, 3-6, 7-5 Monday in the opening round of the Acura Classic.

Harkleroad, ranked 109th in the world, came from behind in the third set to win the final two games and surprise Schnyder.

Harkleroad fought back against Schnyder after winning the first set, but fell behind when Schnyder took control of the match in the second and took a 2-0 lead in the third.
Tough Draw
Ashley has probably one of the toughest draws if not the toughest draw she has ever faced. She has had some tough draws before. She has had tough early round opponents but looking through the potential of the whole draw this draw is a monster.

This is a draw where Ashley needs to just go out and be loose and have fun. Ashley had a tough draw in Charleston last year in her "breakout" tournament. She was just there to have fun and she did have fun. Ashley has recently stated that she has been able to get past the pressure of performing. She said she was just out there to have fun. Well that's what she needs to do at this tournament looking at this draw. She might be able to pull off a couple of upsets and get back to having fun.

Ashley faces Schnyder in the first round. Patty won't be easy but it is a potential spring board win for Ashley. Ashley then faces either Mandula whom she lost too in Charleston earlier in the year or Amy Frazier. After the second round it is likely to be Mauresmo, Demetieva, Davenport and Sharapova if Ashley were to go that far.
Venus Wins 2 & 1
Venus wins again by the exact same score as she defeated Ashley at the Australian. Check back here later to get some details on the match with Venus

Ashley has just come off a tough spring both physically and mentally but says she is on the road back and is ready to get her game back to the level it was in early 2003. Ashley has expressed in recent interviews that she had let the stress of expectation get to her mentally. She has put that behind her recently and is just going out and having fun playing tennis. Ashley has also put some personal issues behind her and is ready to again focus on tennis.

Ashley has shown some signs that she is back and having fun. She had a quality win over Asagoe and was just unfortunate to draw Venus early on in the tournament. Ashley still isn't quite ready to present a challenge to Venus but that day to will come. The stats of the match may prove Ashley played Venus tougher than the score would indicate but that will have to wait until tomorrow.
Ashley Gets Round One Win - Faces Venus Next
Ashley had what appears to be an easy first round win against Shinobu Asagoe, winning 6-3, 6-2. Asagoe is ranked 66 and is the type of player Ashley should be beating. You have to beat the players you should beat then challenge those that are currently better than you to continue to improve your game. So far at the JP Morgan Chase Championships that's what Ashley has done. Venus is Ashley's next opponent. The last time they played Ashley put up a bit of a fight but the score ended up lopsided. To beat Venus Ashley will have to keep the ball on Venus' running forehand. Easier said than done but it is the secret to beating Venus.
Ashley Draws Asagoe
Ashley will play Shinobu Asagoe in the second match on center court at the 2004 JP Morgan Chase Open. If Ashley can get by Asagoe she will face Serena Williams for the first time in the second round. Another match that will surely be played on center court. Ashley is also playing doubles with Jill Craybas. Ashley, was granted a wildcard into the tournament and was also the player representative.
Ashley Loses BUT....there is good news
Ashley lost in three sets but that doesn't mean she's done. Following are some comments from Malivia Washington whom normally www.harkleroad.net wouldn't agree with but this time we do.

Qualifer Ashley Harkleroad could use some of that attitude. She's a great young talent who has fallen from a career high No. 39 in 2003 to her current ranking of No. 115. This will be a huge summer for her career. Once a player has tasted some of the good life as a top 50 player, it either makes them want more success or makes them relax and enjoy life a little too much. Now is Harkleroad's time to get back to where she belongs.

We love Ashley at www.harkleroad.net otherwise the site wouldn't be here. Very rarely will you see a negative on this site. It is a fan site. It is about what Ashley does well........however in this case Mal hit it on the head. Ashley did have some distractions in life and she may have fallen prey to exactly what Mal points out this past spring. The good news is we believe at www.harkleroad.net that Ashley has moved past all the distractions and by the time the summer is over she will be back in full form. Now all she needs is a little bit of time to work her game.
Ashley Gets A New Coach
Patricia Tarabini (ARG) is now Ashley's new coach. Patricia thinks she can help Ashley out with her game. Patricia just plays doubles these days and she teamed with Ashley this week at the "Bank of the West Classic." The pair lost in the third set to Jidkova/Lee-Waters.

Ashley is first on court Wednesday 7/14 where she will face Jelena Kostanic.
Ashley is Working on Her Game
Ashley had to go through qualifying to get into the main draw of the Bank of the West Classic. Ashley defeated Vilmaria Castellvie (PUR) 6-1, 6-2 to qualify. While it isn't any fun to think Ashley should have to go through qualifying if your a fan, it is good for her game right now. Ashley needs the match play to hone her skills. Ashley will face Jelena Kostanic (CRO) in the first round on Tuesday. Ashley has the potential to go to the semi-finals where she would likely face Lindsay Davenport.
Ashley is Working on Her Game
Ashley spent time in Los Gatos to work on her game. While she did win her first round match she lost in the second round to Cory Ann Avants. Generally Ashley is a much better player than Cory Ann however Cory Ann can step up and play at top levels every now and then. Ashley and Cory Ann are the same age and played Juniors at the same time.

There is not an official word on a coach right now or at least none known at www.harkleroad.net. Ashley has had an up and down spring as she did a couple of years ago and she came out of it all fine. This will be a little harder to do as Ashley is playing on a higher level now but with her fortitude you can expect Ashley back in the top 100 soon and the top 50 not long afterward.
Ashley is in Los Gatos
Ashley is playing the challenger in Los Gatos, California this week. Ashley is seeded third as a wildcard. Ashley is also seeded second in doubles with Samantha Reeves. Ashley has been struggling as of late. She has had coach problems and in general has been down on herself. She didn't play that bad in Wimbledon despite the outcome especially considering the amount of play she has had this spring.

It would be easy to say Ashley should win this event for the second time in as many attempts. However when you are working to get your game back that is sometimes easier said than done. Don't be surprised if she does win this tournament. There is no one in the draw she can't beat. There are a couple of people that could step up however. Rao is out already and Ashley really has a clear path to the semi-finals where Kutuzova will likely show. Ashley lost her last match with Kutuzova in Belgium at the Astrid Bowl as a junior a couple of years ago. In the final she would likely face Reeves. Schlukebir or Haynes are also potential finals opponents. There will be enough challengers to help Ashley's confidence but she is the best player in the draw.

Ashley is playing doubles with Samantha Reeves. These two haven't always been the best of friends. However as the number two seeds they should just blitz right through the double draw.
Ashley Out in Round One
Ashley lost to Els Callens in three hard fought sets. Even though Ashley lost there were signs of Ashley getting back on track with her game. Ashley isn't particularly fond of grass and Callens while not a major player on the WTA, at least not yet is capable on grass. It was a hard fought match and each set was only decided by one break for the set winner. Ashley has been without a coach for a while now but her play despite the loss still shows Ashley belongs in the top 50.

Ashley went through a similar spring a couple of years ago as she adjusted to the next level of play. Then during the summer it kind of all came together for her. Ashley will be able to adjust again. She's struggling right now but she'll be back and playing like her fans know she can.
Ashley Gets A Favorable Draw
Ashley's draw gives her a shot at building back her confidence as well as her game. It's not an easy draw mind you but it is potentially the right opponents on the right surface. Grass isn't Ashley's favorite surface by any means but it is a fast surface and Ashley tends to like faster surfaces. Ashley's foot speed helps her on clay everyone has seen those results in spite of a rough clay season for her this year. On grass Ashley has the ability to go down the line or cross court quickly enough to keep the points short. That's what she will have to do to have success on the grass this year especially. She will need to construct her points more quickly instead of waiting for them to come to her as the do on clay. The speed of grass makes a small opening a big one. Ashley will need to take advantage of those opportunities and prevent the same on her side of the court.

Ashley will face Els Callens in the first round. Ashley has faced Callens one time on clay and won in straight sets last year in Strasbourg. Ashley's next opponent will likely be Paula Suarez although it wouldn't surprise me if Shenay Perry upsets her in the first round. Paula is a clay court specialist and on the grass Ashley should be the better player. If Perry shows that could be more of a challenge. Perry thinks more on the court and is faster than Suarez. The third round will either be another clay court player or a qualifier. Ashley really should be able to get through the third round if she can get there. The fourth round will all depend on who shows and/or how much confidence Ashley has built up if she was to get to the fourth round.
Ashley Out at Eastbourne
Ashley played Eastbourne for the first time and didn't fair too well, losing to Jie Zheng, one and one. Zheng has been on a roll and Ashley hasn't played much since parting ways with her coach a couple of months ago. Zheng however was only playing $25K's this time last year. Ashley doesn't like grass much either, even though she was once seeded number one on the grass as a junior.

As of now it appears Ashley is into the main draw of Wimbledon. That's the good news. The bad news is one quick match on grass beforehand. Ashley needs to probably win a couple of rounds to reignite her game. That will be a tough challenge for her on the grass. This is a time when Ashley needs to step up and help her own career. Let's hope she can do just exactly that this year in London.
What's Next For Ashley? (6/03/04)
Ashley will play Wimbledon for certain, it is unclear if she will play a warm up but don't expect her to play until Wimbledon. Ashley has slipped to 88 in the rankings but she essentially doesn't have any points to defend until the ASB Classic the last week in December. Ashley lost 15 spots by not defending her points in Strasbourg. Now she will lose a few more points by going one round less at Roland Garros than she did in 2003. Ashley will barely stay inside the top 100. That will get her into Wimbledon and the US Open but she may be relegated to qualifying for tournaments as low as Tier III.

Right now that may not be bad for Ashley. She needs some match play to get her confidence back and to shake off the rust. Ashley has had a rough spring in the past only to have an excellent summer. Ashley needs to put together another summer like she did in 2002 only at the next level.

Everyone recognizes Ashley has the talent to be consistently in the top 50 and potentially a top 20 player at least. She is young still by today's standards but Harkleroad fans are anxious to see her win and the sooner the better. American women's tennis doesn't have a future without Ashley. Capriati is getting old and the Williams are already on the downward swing. The Williams' game is just too "wild" and the rest of the world has begun to figure out how to beat them. If you follow the ITF tour then you know that essentially leaves Ashley to carry the flag for the next few years once the Williams, Capriati and Davenport fade into the distance.

With the age restrictions there are two or three other potential Americans out there but they are all Ashley's age or a year older. The next crop is 5 years away. Realistically you have Kristen Schlukebir, Angela Haynes and Shenay Perry with potential to reach Ashley's level. Only Perry has shown any real potential. Schlukebir has shown some progress and Selena Roberts of the New York Times was touting Haynes at last year's U.S. Open but Angela, all the sudden can't even win a 10K tournament. Ashley's is America's best future, let's just hope she can overcome her current struggles.

Ashley Struggles in Second Round Match (5/26/04)
Ashley didn't fare too well in her second round match at the 2004 French Open. The worst part about not winning that second round match is the points that she really needed to defend. The next missed opportunity was the draw opened up for Ashley after Henin-Hardenne lost. Ashley had a legitimate shot at the quarter-finals except for the fact that she is struggling at the moment.

Ashley has struggled in the spring before only to have an excellent summer. Her first round match did prove that she is pulling it back together but you don't just go play the French and progress without a few matches under your belt.

Ashley didn't have a lot of error but nor did she have any winners. Perebiynis forced the play through most of the match hitting 39 winners. Ashley was two of two on break chances put clearly her service game was her downfall in the match. She allowed 16 break chances losing six. Perebiynis won more points on Ashley's serve than Ashley, 34-19.
Ashley Gets Needed Win (5/24/04)
Ashley gets a very much needed win against Diaz-Oliva and in just sixty-three minutes. Ashley won the match 6-2, 6-1 winning 60 of 100 points played. The stats were almost all Ashley. She had fewer unforced errors, more winners, more aces and fewer double faults. The only bad news might be that she lost two of the three games on her own serve. She did break Diaz-Oliva 6 times on 11 break chances. Ashley only faced three break points herself.

Ashley did what she had to do today to get her tennis back on track. Playing out on court number 10 where the pressure was virtually nonexistent and the opponent, while not a push over, was not on Ashley's level of the game. That's exactly what Ashley needed to get begin to get her confidence back and make that next push to the elite level of women's tennis.

Women's Tennis needs Ashley to reach the next level so they can reach the next level. With the retirement of Graf and Hingis in recent years and the extended absence of Kournikova and the unsightly play of the Williams sisters, the WTA needs the next American "sweetheart" to finally make it big on the tour. Every where Ashley goes she attracts the fans with her on court presence and that is exactly what the WTA needs and they need it now.

The Williams and the Belgians have a ton of talent but lack either the grace (Williams) or personality (Belgians) that the likes of the Kournikova's, Hingis' and Harkleroad's can bring to the game.

Ashley faces Tatiana Perebiynis and lost their only meeting at the Pilot Pen last year after a long layoff. Ashley was rusty and gave away the first set only to make a strong comeback in the second finally losing it 7-6. Ashley still has a strong reputation of not losing to the same player twice in a row and avenging losses. Look for Ashley to move to the third round.
Ashley Draws Mariana Diaz-Oliva
Ashley has been able to draw a relatively easy first round draw. Mariana Diaz-Oliva while she has been on the circuit a while and has some ability she has been struggling. Currently ranked 144 she will be a good first round draw for Ashley. She won't be a walk over but Ashley should be able to win this match. That will be up to Ashley. Ashley has never play Mariana Diaz-Oliva in a professional match.
Ashley Will Most Likely Be At The French
Ashley will most likely be at the French Open. Ashley has had an undisclosed injury that has kept her on the sidelines since Charleston. She was suppose to play Dothan to work on her clay court game but instead has to pull out and hasn't been on court since losing in the first round at Charleston.

Ashley is in a true need of a little luck. She needs a little luck in her draw to go a couple of rounds at the French so she can defend her points. Without any match play it is going to be pretty tough to defend points at the French. If Ashley can just come in and play for the fun of it much as she did when she had her break out tournament in Charleston in 2003 she can actually go some rounds as long as she isn't facing a top ten or twenty player too early. She needs to defend this points so she can remain in the top 100 ensuring she can play Wimbledon and the U.S. Open without qualifying.

There are some pundits in the know that think she needs to go through some qualifying to gain some additional experience. However you never want to go backwards if you don't have too.

Ashley is at a tough point in her career. She in danger of ending up on the USTA circuit again if she isn't careful. That's ok if you are rehabbing but you don't want to end up on that circuit trying to re-establish yourself. It's a great circuit and there is some great tennis played on the circuit but you have to play the very best to become the very best.
Happy Birthday Ashley
Ashley will be 19 years old on May 2nd. Happy Birthday Ashley!!!

Ashley did not play the USTA Challenger as originally intended. Saturday before the tournament Ashley pulled out for and undisclosed reason. That was a little unfortunate because it was a wide open draw as it turned out with not one seed making it past the quarter finals, although I believe Ashley would have made mince meat of the draw.

Look for more pictures from the Family Circle Cup by the end of the week.

Ashley is on the players list for the German Open beginning May 3 but that is all the information available at this time.
Ashley to Play the $75K USTA Challenger in Dothan, Al
Ashley has accepted a wild card into the USTA Movie Gallery $75,000 in Dothan, Alabama the week following the Family Circle Cup. Ashley will play the feature match on Wednesday night April 21st in Dothan. Ashley will be seeded #1 and it's not a bad draw but for a $75K you always hope for a little more. Dothan just has a tough date on the calendar with the Family Circle Cup the week before and most players leaving for Europe for the clay season there and also the Fed Cup plays same week of the tournament in Dothan.

Last year Tatiana Golovin and Viktoria Kutuzova made impressive showings at the tournament in Dothan much like Ashley did in 2001. Ashley is a fan favorite in Dothan and she should fill the stands on Wednesday night. That is something you don't see to often at a USTA tournament but Ashley has that kind of drawing power in Dothan, Alabama.

The tournament in Dothan is known as the crown jewel on the circuit. It's held at a public facility and at first the girls wonder why Dothan. Once they've been there and played they love it and want to come back. The USTA official love it and the crew and how well they keep the clay off the lines. One official said the crew there was the best in the country from an officials point of view. The supervisor and referee also love the facility and the tournament and dubbed the tournament their "crown jewel."
Ashley Will Not Play the Bausch and Lomb
Ashley will not play the Bausch and Lomb Championships. Ashley was fighting blisters on her racquet hand in Miami just a week ago. Blisters generally heal pretty quick but if a person tries to push the blister area before the skin is completely healed it is very easy to break the skin and cause the same problem to recur. Ashley has a lot of points to defend next week in Charleston and she has struggled since the ASB classic almost like she did two years ago. She will need to be completely ready to go next week in Charleston. Ashley won't have to defend every point from last year but she will have to defend a good portion of them to be able to get into every tournament. If she doesn't defend very well she will have some tournaments early this summer to gain back anything she looses.

Two years ago after struggling in a bad spring Ashley went on to have a great summer winning two tournaments in a row. So far this spring has shaped up almost exactly like it did two years ago. Ashley eventually stepped up to that level of competition proving she belonged where she was at that time. One comment out of Los Gatos was that Ashley seemed confident and expected to win. It was almost as if she expected nothing less of herself. Ashley is now at that level again on the WTA tour. Ashley is having another spring of adjustment. If you have followed Ashley at all then you realize that you can't base Ashley's long term success on what has happened so far this spring.

Ashley has shown some flashes of brilliance early this year. You realize that she has the physical talent to play at the level of the top twenty players. Ashley's mental game has always had a lapse in confidense as she moved to the higher levels on occasion. It appears, that again is what you are witnessing again right now. You realize however, that if Ashley steps up mentally one more time like she always has in the past, that she will make her goals.

It's a fun time and worrisome time for Harkleroad fans. You just can't wait for her to succeed and the sooner the better. On the other hand you realize she has the biggest challenge of her career. Ashley's career has been like a lot of others. They have shown signs of brilliance but never quite completed the trip to the very elite. It's not to late for Ashley by a long shot. However, Harkleroad fans want it to happen right now. Harkleroad fans need to be patient. Ashley will eventually get that overwhelming confidence back on her side of the court sooner or later. When she does you should once again see the tennis that made you a Harkleroad fan in the first place.
Blister Hinders Ashley; Plus What's Coming Up
Ashley had to pull out of her first round match in Miami with Jill Craybas because of bad blister on her racquet hand. She said it was very hard to hold her racquet and finally was forced to retire. As this level of tennis it is amazing sometimes what a minor injury can do to a top athlete while sometimes a bigger injury can be overcome. The little injury hampered Ashley against Craybas.

Ashley had lost the first set and trailed in the second 3-0 when she finally had to retire from play.

Ashley has a very big event coming up in two weeks; The Family Circle Cup. Unable to secure any points in Miami and the draw looked favorable for Ashley for at least a couple of rounds, Ashley will have to defend a lot of points in Charleston in only two weeks from this update. (3/27/04)

Ashley has entered the Bausch and Lomb Championships at Amelia Island, Florida leading up to the Family Circle Cup but the blister may force her to wait another week before she plays again. Ashley will want to be able to play on the clay before the Family Circle Cup but it is far more important that the blister completely heals before she steps on to the clay of Daniel Island, South Carolina.
Ashley is #42 on the NASDAQ-100 players list
At #42 all Ashley had to do is hope for a more favorable draw than she had in the Australian Open on the hard courts down under. Ashley's favorite surface is on the hard courts and she has had some success on the ITF trail winning two tournaments in a row on the hard courts of Los Gatos and the Bronx.

A favorable draw will continue to help Ashley continue her development and improve her confidence and skill in the bigger tournaments. There will be plenty of time to face the likes of Venus Williams later in the tournament. A first tough first round match wouldn't be all bad, especially if she can win it but at this point facing the top ten in the first round doesn't help Ashley.
Ashley Pulls Out of Pacific Life
Ashley has pulled out of the Pacific Life Open according to news reports from the LA Times. Ashley pulled out sometime last week but as of now there are no specific reasons. Ashley had also been on the players list for Mexico and didn't show.

www.harkleroad.net doesn't have a lot of details at this time but speculation would be a little R&R before the big spring swing that is about to begin. Expect to see Ashley at the NASDAQ-100 and the Family Circle Cup for sure. Ashley may possibly play Amelia Island as well but that may depend on how well she does or doesn't do in Miami. Also she probably does want a warm up on clay before the Family Circle Cup. Ashley has a lot of points to defend in Charleston and this will be the next big challenge in her career. She has to do well this spring to continue her progression.
Ashley Falls to Marrero but Still Impresses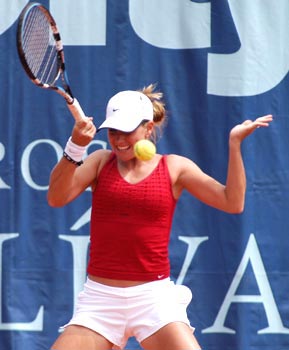 Reports out of Bogotá are that even though Ashley lost she was impressive. Clearly it was a tight match and once again Ashley doesn't quite figure out a red clay specialist. It's amazing how Spain has so many players that can play so well on the red clay. Sure they grew up on it but that doesn't explain everything.

This was actually the one match you worried about for Ashley when the draw came out. You saw the (ESP) by Marrero's name and you went ought oh. It's the first round however surely Ashley can win this round then it's clear sailing to the semi-final where she would face three time defending champ Zuluaga who isn't so bad on the "red" herself. Only Spaniard Leon-Garcia posed any other kind of threat on clay and little known Megan Falcon took her out in the first round.

Ashley then teamed with Patricia Tarabini (ARG) on Thursday to win and then lose in doubles. Julie Ditty a very good doubles player and Renata Voracova a very quick player took the pair down.
#4 Seed in Columbia
Ashley is the #4 seed at the Copa Colsanitas Seguros Bolivar in Bogota. She will face Spaniard Marta Marrero in the first round. Marrero is #109 in the rankings and like most Spaniards can play very well on the clay. This won't be a push over match for Ashley but a match she should win.

The entire draw looks pretty good for Ashley all the way through to the semi-final. Her semi-final opponent will likely be three time winner, defending champion and #1 seed and #22 ranked Faviola Zuluaga. Can Ashley beat Zuluaga on the red clay? She can but it will be a tough match. If Ashley plays like we know she can play it might even be an easy match. Ashley won't be intimidated that is for sure. It will be a challenge for Ashley to play Zuluaga and that is when Ashley plays some of her best tennis. Ashley has a good shot at getting her first WTA Tour title at this event. It won't be easy but the potential is there for her if she is playing well.

Ashley is playing doubles with Patricia Tarabini of Argentina.
Ashley's Good Friend Gisela Wins
Ashley lost in a tight match to her former Wimbledon Championship doubles partner, Gisela Dulko, 7-5, 7-6(3). Ashley has played doubles with Gisela a number of times both professionally and in juniors where they won their title at Wimbledon. Gisela for a long time was ranked ahead of Ashley professionally until Ashley caught and passed her late in the 2002 season.

This is a match that Ashley most analyst would say Ashley should have easily won. However Gisela has been known to step up and defeat a top opponent before. Also as familiar as Gisela is with Ashley's play, she may have had just enough of the mental advantage, because of her lower ranking, to step up and surprise Ashley this time out. Ashley and Gisela have played one other time professionally, September 2002, in Columbus. Ashley won 7-5, 6-3.

Ashley got to the second round as the fifth seed of the Kroger St. Jude and Cellular South Cup, by defeating Silvija Talaja of Croatia, 6-3, 6-1 it was reported as typical Harkleroad dominating win. The kid of win that makes people step up and take notice. Now Ashley needs to continue to work on her consistency from match to match.

Ashley also participated in "Kids Day" with Carly Gullickson. The tournament raises money for the children's hospital in Memphis. St. Jude is relatively famous for all the help they give to children. Famous drag racer Don Prudhomme, among other drag racers also make a visit to St. Jude every year during the annual visit in Memphis by the NHRA.
Ashley is playing the St. Jude
Ashley will next play at the Kroger St. Jude Classic in Memphis Tennessee which begins Feb 15. This is always a good tournament to play because of the charity implications. It draws a lot of the big name players even though it's only a tier IV tournament.
Venus Wins But There is Some Good News
AT first glance it would appear that Ashley didn't play well against Venus and that Venus just simply dominated Ashley. Well on the scoreboard and in total points she did dominate Ashley. However, Ashley played better than scoring would indicate and probably a little better than she credited herself of playing, especially against Venus. Ashley was in most of the points most of the match. She showed she could stay out and hit with the biggest hitter on tour.

Venus did put in a couple of "love" games against Ashley and once on Ashley's serve. Those two games were more of aborigine than anything else when compared to the rest of the games in the match. Ashley seemed to handle Venus' serve pretty well although she did get handcuffed a couple of times. Venus' handcuffs even the likes of Henin-Hardenne sometimes. A little more experience and seasoning will definitely help Ashley in this area of her game.

Ashley had a very good first serve percentage but that may actually be an indicator of a negative rather than a positive. Her average first serve speed was only around 125 kmh while her fastest serve was at 159 kmh. Her fastest serve in each section of the court were all above 140 kmh at a minimum. Ashley's average speed was low overall. Ashley was just trying to get her first serve in, and in fact her second serves of which there were few, had an equal or higher speed than her first serve average

.

Overall the experience had to be good for Ashley. She stayed in the points and proved she could hit with the biggest hitter in Tennis. That does bring up some things Ashley needs to work on. Her coach Jay Berger is trying to get her to take a few more risks. She does need to go for more shots instead of just keeping the ball in play. Ashley also needs to continue to work on improving her strength and her fitness. This website is generally geared around the positives but if Ashley is going to reach her goal she is going to have to improve her fitness all around. Ashley won't probably ever have the power of a Venus Williams so she'll have to reach her goal with much harder work in the gym and diet.
ASHLEY draws VENUS
Here we Go! Ashley's toughest first round draw ever. Although Venus is currently outside the top ten, most would agree she is still a top 5 or 6 player. If your a Harkleroad fan your first reaction is that you just hope she can compete. Don't be so shallow in your emotions however. Harkleroad fans knows she can compete but how will she react the first time she faces the likes of a Williams?

One wonders if Ashley will be in awe and just go out and lay an egg or a couple of bagels. Don't look for that to happen. Ashley is confident right now and played well last week reaching her first WTA final. Ashley did go out in the first round this week against Anca Barna whom she defeated the previous week but that may have been a blessing in disguise. She has had time to rest and now has a couple of days to work on a game plan. (Keep Venus moving and the ball on her running forehand. Let her make the errors. Just keep the ball in play and don't let her move you.) If she is coached properly, Ashley will be looking forward to this match and it won't catch her by surprise.

Everyone will pick Venus to win and I won't be so bold to pick Ashley but don't make any assumptions too quickly about this match. There are a lot of things going Ashley's way and this match is a prescription for disaster for Venus. Here's why: Venus has yet to play a match this year, and hasn't played since last summer. Ashley just had a great tournament in Auckland and is a fellow American. Venus will recognize that Ashley has the potential to play at a high level. Venus will come in and press in the first set. If her stroke is on it could be a long day for Ashley (or a short day as it were.) If Venus gets off to a slow start, she will set Ashley up in perfect circumstances for Ashley.

Ashley is notorious for two things thus far in her career. The occasional slow start and a penchant for winning when she isn't expected too. That and the likelihood that Venus will feel some pressure sets the plane of tennis in motion for an upset. However, Ashley will have to avoid her own slow start, win or lose, to have a quality match. I won't predict the upset but I won't be surprised if it happens.

If Ashley wins this match, she has a clean path all the way to the quarterfinals. With the confidence she'll have with a win over Venus, if that happens, I will predict a quarterfinal appearance.
Tasmania to Australian Open
Ashley lost early in Tasmania falling to Anca Barna. However, that is probably more of a blessing in disguise than anything else. Ashley did say she was tired during the ASB Classic on a couple of occasions. While going to the final again would be great fun for Ashley, the bigger goal has to take focus. Right now a few days to get ready for the Open instead of playing in a tournament may just be the best thing for Ashley right now. (Check back in a couple of days for more on the Australian Open.)
Ashley Makes Her First Final
Ashley has made her first WTA Tour Final, in the first tournament of 2004. Her confidence is sky high right now, after defeating Smashnova-Pistolesi, and Anca Barna on the same day. It took three sets to defeat junior foe Marion Bartoli, but Ashley ended up winning that match going away after getting off to a very slow start.

For some reason, Ashley has a lot of critics. Why is beyond this writer! There can only be two reasons. Both of them are in theory nothing more than political correctness. That stinks. First of all, the media has insisted on comparing her to Anna Kournikova. We all know the media hates Anna because she's beautiful. The distain for Anna kind of grew over time. At 16, they were all for Anna, but as she failed to meet expectations, they turned on her because of her looks. So now Ashley has to suffer because of it. The good news however is, Ashley doesn't care about all of that. Nor does she let it influence her.

Ashley made her WTA debut in Charleston last April and it was a coming out party. Sure she had played a few WTA events but because of age, that was more of acclamation than anything else. Ashley didn't really even hit the WTA tour until the Family Circle Cup, in 2003. She landed with a bang and served notice, she was her to play. She had a pretty good spring and then a slight tendon tear, held up the rest of her year.

So now here she is in her first final and if you had listened to the critics like Jon Wertheim, you would think she was just another pretty face. Well, she does have a pretty face but she isn't just another one! Ashley has been on the WTA tour for less than a year and she is already in a final. Ashley isn't one of these players that "zoom" to the top right away. She has been on a steady climb for a few years. She may not even peak for a couple of more years. Once she does make it to the top look for her to be there for quite awhile.

The road to her first final, wasn't an easy one, and some would say it wasn't as easy as even Maria Sharapova had in her two WTA tour wins last year. Maria and Ashley seem destined to be the rivalry of the future and now with Ashley making her first final that agenda has moved ahead. The key to this first final was getting by Smashnova-Pistolesi and for those who really follow tennis they know that was no easy feat. Smashnova-Pistolesi is notorious for defeating the top seeds but just hasn't ever topped the mountain of the top five. For Ashley her victory over Smashnova-Pistolesi, was more than just a routine victory. Then after the defeat she came right back and defeated Anca Barna a few short hours later. Not an easy chore.

Ashley's final obstacle to the final was Marion Bartoli. Bartoli is only a couple of spots behind Ashley in the rankings and has been a key opponent in the juniors. Ashley showed off the best and the worst of herself against Marion to reach the final. Ashley has a habit of getting off to a slow start every now and then, and it reared it's ugly head against Bartoli as she fell behind 5-0 in the first set. Ashley has another reputation however. She is never completely out of a match and she plays extremely well from behind when she decides she wants too. Ashley went on to win 15 of the next 21 games to finally win going away, reaching her first final.
Ashley Wins in a Smash
Ashley defeated Anna Smashnova-Pistolesi in two sets on Thursday at the ASB Classic in New Zealand. Ashley won 7-6(7) 6-2. This was Ashley's biggest win since defeating Daniela Hantuchova in last years French Open. A win over Smashnova-Pistolesi makes Ashley's 2004 ASB classic a success despite what else may happen. It was a quality win over a top 20 player. Ashley has a few hours off before she faces Anca Barna in the 7 P.M. feature match.

Ashley last faced Barna in Shanghi in a losing effort. The only other time they played Ashley had a come from behind win at the Bronx Classic in 2002. Ashley went on two win that tournament, her second professional win. It won't be easy playing two matches in one day. The first tournament of the year, a top notch second round opponent and a night match later in the day with a player that hasn't been easy on Ashley. However Ashley has a reputation of avenging almost all of her losses in the next meeting. Let's hope she can again.
2004 is Here
Well the 2004 Tennis Season has quickly arrived. Ashley will be flying to Australia and New Zealand at the end of the month. Ashley's first tournament will be the ASB Classic. Ashley had a good tournament last year at the ASB. She went through qualifying avenging a couple of earlier losses to fellow Americans Sarah Taylor and Bri Rippner.

Ashley entered the tournament at 115 last year and after qualifying defeated then #25 Anne Kremer, for her biggest win to date in her career. Ashley then faced Gagliardi in what turned out to be a titanic struggle between the two players. Ashley actually had a match point before finally falling in a third set tiebreaker to Gagliardi.

The New Zealand fans fell in love with Ashley and are looking forward to having her back this year. The ASB website has a short piece on Ashley in their news report on committed players from back in November. Their were also other news reports out of New Zealand looking forward to Ashley's return. http://www.aucklandtennis.co.nz/asb_bank_classic/index.php

Ashley is 10th on a players list that gets Harkleroad fans excited about her chances at this tournament. Even though she is 10th on the list that doesn't tell story of the players list. Harkleroad fans will recognize that Ashley should be able to defeat most of the players on this list. Ashley has already defeated several of them already. A semi-final appearance is what most Harkleroad fans will expect out of this tournament. An especially tough first round draw such as Dokic would be the only thing that may possibly hinder Ashley's chances here. This is, of course, if Ashley is playing well.

Ashley worked on her strength in the off season. Improving strength can take a tournament or two to get used too. A player tends to hit it a bit long then to compensate starts to hit it into the net cord. Harkleroad fans are hoping she is ready to go.