<![if !vml]>

<![endif]>
---
Global Warming - Truth or Dare?
Just follow the links below to see some of the facts you haven't heard.
There is a lot of politics these days about "Global Warming." The problem with all this is most people don't know the real truth and the media fails to fully investigate the subject. Many people have been caught up in the emotional appeal of Global Warming. After all, humans like the doomsday scenario. It sucks us in every time. Well this page will be up, to get the facts out. Remember it wasn't all that long ago the big fear was "Nuclear Winter."
We hear enough of the bad stuff in the news. The media seems to be especially susceptible to "bad" news about "Global Warming." After all we do like to hear it. It sells newspapers and it boosts ratings. We seem to want to know what happened that was bad and who cares about the good. Good news gets kind of boring and sometimes a little to mushy. The negative part about all this is the next thing you know you get suckered in to believing it all. I think the media is especially bad about being suckered. If all you're doing is reading a writing about the bad stuff pretty soon you believe it.
Well this page is going to cover the good news. It is kind of hard to find but it is out there. If you're going to follow a topic you have to look at all the facts. When it comes to "Global Warming" we only hear the bad facts. There are a whole lot of people out there that believe it too. Hopefully you will be able to come here and use the links listed on this page to make a fair judgment about is truth and what is fiction.
At the same time in all this you hear a lot all about conserving our resources. That is a good thing. However when people like myself contradict or point out the errors of "Global Warming" for instance, we are accused of not caring. That actually couldn't be further from the truth. A good conservative is conservative about everything including natural resources. On the other hand a good conservative doesn't have a knee jerk reaction to every little piece of negative news. For instance I understand that fossil fuels are finite and most are non-renewable. (Trees are renewable for instance and oil is not renewable.) We should be looking for renewable sources. Renewable sources are out there and we should be moving toward them over time and I believe we are moving that way. What we shouldn't do is demagogue the automobile because of lies about "Global Warming." We shouldn't demand that the people of this nation or the world for that matter, pay for something that is not needed ..i.e..... the Kyoto Treaty. The Kyoto Treaty is nothing but politics.
The politics of all this is what is truly alarming. There are people out there that believe they know better than you and that if it wasn't for them you would perish. They tend to drive stories like "Global Warming" because it gives them power over your everyday life and further leads some (who are stupid enough to believe it) to believe that without these "caring" leaders life would be a disaster. We won't get into all of that on this page but lets just agree that there are those out there who think they know better than you. We've all met them at times at one level or another and they are out there in high places in "big government" as well as being right there in your office.
Just follow the links below to see some of the facts you haven't heard.
Dr. Fred Singer, president of The Science & Environmental Policy Project in Arlington, Va., says there are four different independent data sets for measuring temperature. First are thermometers at weather stations around the world. They show warming over the past 30 years, but not in the United States. The second are weather satellites. They show no warming. The third are weather balloons. They show no warming. The fourth are called proxy data -- tree rings, ice cores, lake sediments, etc. They show no warming.
In the July 1975 issue of National Wildlife, Nigel Calder warned that "the threat of a new ice age must now stand alongside nuclear war as a likely source of wholesale death and misery for mankind."
In the July 1975 issue of National Wildlife, C.C. Wallen of the World Meteorological Organization warned, "The cooling since 1940 has been large enough and consistent enough that it will not soon be reversed."
"Certain gasses, such as carbon dioxide, have the potential to affect temperature, but that is very different from saying that a particular rise in temperature during a particular era is necessarily due to "greenhouse gasses." A major part of the rising temperature over the past century took place before World War II -- which was also before the large increases in carbon dioxide emissions in our time." (Read the article - Global Hot Air)
"It is claimed by the IPCC (Intergovernmental Panel on Climate Change) that global temperature has risen +0.6°C ±0.2°C during the 20th century [6]. For this to be directly attributable to the enhanced greenhouse effect (i.e. be human induced) that warming would have to follow the greenhouse `fingerprint', namely strong warming at the polar and sub-polar regions, much less warming in the tropics and sub-tropics, and the least warming in equatorial ocean regions where water vapour saturates the absorption wavebands to the point where changes in any of the other greenhouse gases has little additional effect." (Read the article about how "Global Warming" really works - The Top of the World)
" 'Data conclusively show human role in greenhouse effect' researchers say" - (Globe & Mail)
"Greenhouse Effect confirmed over 27 years" - (Environment News Service)
"Increase in Greenhouse gases seen from space" - (Reuters)

These were the headlines which were flashed around the world in the second week of March, resulting in a media frenzy over yet another `new' global warming story. What triggered it was a small paper in Nature (v.410, p.355, 15 March 2001) by a team led by British physicist John E. Harries, which claimed to have discovered the imprint of human activity on the Greenhouse Effect, based on comparative studies between satellite-observed Earth's infra-red radiation profiles measured in 1970 and then later in 1997.

Read about how CFC's, Methane and CO2 really effect the atmosphere - A Smoking Pea-Shooter)
"On 19th June 2000, a rare event occurred at Barrow, Alaska, which was to snowball its way into the scare politics of global warming, an event told, retold, and finally exaggerated out of all proportion." (Find out the real significance of a thunderstorm in Barrow, Alaska - A Clap of Thunder)
' "But when we look at the Ross-Lempriere 1841 bench mark, one thing becomes crystal clear: There has been no sea level rise this century - none at all." ' (Read about how the sea level works with "Global Warming" and some very interesting facts about the sea level in 1841 - Mark of Hot Dispute)
Go to John Daly's pages and read more about what is really going on with "Global Warming."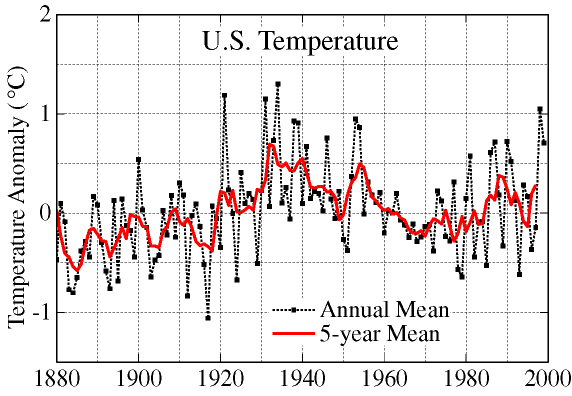 This is a chart from John Daly's page showing the mean temperature in the United States for the past century. If you will notice; the hottest decade was the 1930's. (Can you say dust bowl?)
You can also see the '70's had a lower temperature during the "ice age" scare of that decade.
The spike near the end of the century was 1998's El Nino.
REPUBLICANS TO PLANET EARTH: DROP DEAD! The tail end of this article has several quotes from some well respected scientist about "Global Warming."