Kournikova comparisons don't fluster U.S. teen
---
By Neil Schmidt
Enquirer staff writer

Ashley Harkleroad didn't invite the Anna Kournikova comparisons. But they came knocking.
After being nominated for ESPN's Hottest Female Athlete, dating Andy Roddick and signing with Nike, the 19-year-old tennis prodigy from Georgia has been dubbed the "American Anna." The hype will follow her here next week for the Western & Southern Financial Group Women's Open, which Monday awarded her a wild-card entry.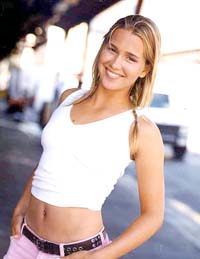 "I've been dealing with that (Kournikova talk) since I was 12," Harkleroad said. "I took it as a compliment. But I really just want to play and enjoy it."
Harkleroad, who dropped from a career-high No. 39 to No. 115 after an elbow injury this spring, is back to No. 93. She said she used to let the hype get to her.
"I was 30-something in the world and didn't enjoy one second of it," she said. "I was always putting more and more pressure on myself. This time around, I relax and look at the positives."
There's a maturity at work here. True to her Bible Belt roots, Harkleroad has said she carries a Bible on the road. Earlier this summer, she called off her wedding with another tennis player, Alex Bogomolov Jr., saying they were too young and na've. (The Roddick relationship was years ago.)
Harkleroad beat Patty Schnyder, who's ranked 16th, two weeks ago in San Diego. After she lost to Venus Williams the week before, Williams said of her, "She's a good player. She's very consistent, she moves well and she's solid."
Harkleroad joins four other Americans already in the W&S field: No. 25 Amy Frazier, No. 33 Meghann Shaughnessy, No. 59 Jill Craybas and No. 82 Laura Granville.